On this, his 64th birthday, we dig out a popular City DNA feature on our former winger Peter Barnes...
It was the must-have football training aid for youngsters up and down the land, only it didn't actually do that much.
Step forward the 'Peter Barnes Trainer'…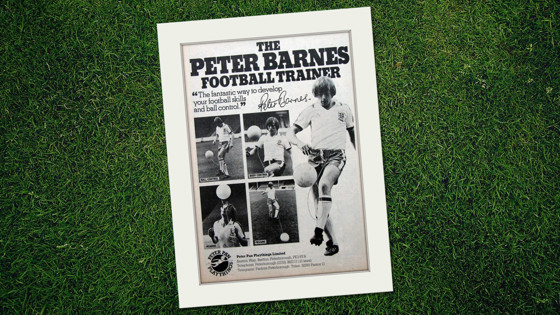 Barnes was something of a poster boy for City in the 1970s.
The skilful left winger had become one of the top flight's most coveted talents and had become an England Under-21 regular and then a full England international.
CITYZENS AT HOME |  Fun & educational activities to do at home
Son of former City stalwart and later chief scout Ken Barnes, the homegrown talent was hugely marketable to the sporting goods world, so when an opportunity to endorse a training aid that could improve youngsters' technique and control was presented, Barnes didn't hesitate – though it didn't quite turn out the way everyone had hoped… far from it, in fact.
"I'd just got into the England team at the time and things had started to take off for me," recalled Barnes.
"I was in a great team and we were in Europe every year, so it was a really good time for City and me personally.
"There was a guy who worked for a company whose name always made me laugh - Peter Pan Playthings in Peterborough – and they wanted to create a training aid that was basically a football on an elasticated string that clipped to your belt.
"So, I went down, listened to what they had to say and signed a three-year deal with them and the Peter Barnes Trainer from Peter Pan Playthings of Peterborough was born!
"Not long after it had been released, I was invited on to – what else? – Blue Peter, the BBC's flagship kids show in Shepherd's Bush to demonstrate the trainer on live TV.
CITY+ - Free to Cityzens until football resumes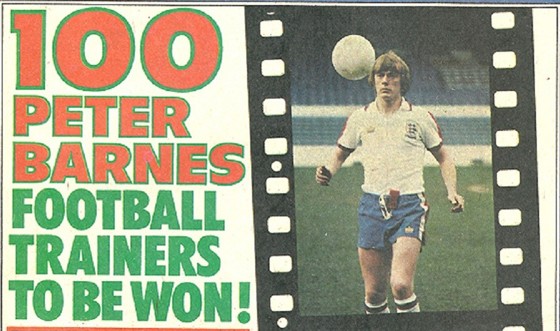 "It was surreal. I was in an Adidas top and wearing jeans, and I could see legendary presenter Joan Noakes and his beloved dog Shep, just across the studio.
"Meanwhile, there was me, trying to juggle this confounded ball, but I could never manage more than two or three.
"It was a nightmare and when people asked me where to get it from, I'd tell them not to bother!
"I think they only sold it at Macro, a cash and carry outlet in Manchester and in a few other cities. It wasn't well distributed, but that might have been a blessing.
"You could mail order them in Shoot! and other football magazines of the day as well.
"I wish I still had one, just for novelty value but I haven't seen one for a long time. Did they sell well? I'm not sure – I doubt it – but they paid me a decent fee so I was happy enough at the time."
Peter Pan, Peter Barnes, Blue Peter and Shep the dog – this might be the ultimate City DNA…