Looking back at moments, players, events and seasons that shaped our Club...
It is often said of City that throughout our history there have been unbelievable periods of feast or famine.
The last decade has been incredible with beautiful football, goals galore and trophy after trophy winging its way back to the Etihad, but City fans never forget the not-too-distant past and the trips to Lincoln, York and Wycombe.
But despite all the ups and downs our supporters have endured or enjoyed over the years, there is one season – not that long ago – that still sends a shiver down the spines of those who witnessed it… the 2006/07 campaign.
Cityzens At Home: https://www.mancity.com/CityzensAtHome
City+: https://www.mancity.com/citytv/city-plus
This was a season of extremes – at home – and yet it all began so well.
Stuart Pearce would see his side not only go unbeaten in the first eight games at the Etihad in 06/07 but concede just one Premier League goal at home in 736 minutes of football.
The goals were hardly flowing during that time for City, but seven scored and one conceded was a decent return and the basis of what looked a chance to go into the New Year with the handbrake slightly eased off.
There were warning signs that all wasn't well with back-to-back home defeats to Spurs and Bolton Wanderers around the festive period, but City followed up those losses with three wins on the bounce including a 2-1 New Year's Day win over Everton.
Georgios Samaras scored in the 50th and 72nd minutes in a 2-1 win over Everton to end his 17-game drought and start 2007 off with a bang.
This was on the back of those away wins at West Ham and Sheffield United, so it looked at though Pearce's side might have turned the corner somewhat.
But nobody who witnessed Samaras' 72nd-minute penalty against the Toffees could have realised what would follow.
City would fail to score a home Premier League goal in the next eight home games in the worst scoring run on home turf in our history.
Blackburn started the rot, winning 3-0 at the Etihad (or City of Manchester Stadium as it was then known), before Reading left with a 2-0 win.
Wigan Athletic and Chelsea then both recorded 1-0 wins.
In April, Charlton and Liverpool left with 0-0 draws but Aston Villa recorded a rare victory in the blue half of Manchester, winning 2-0.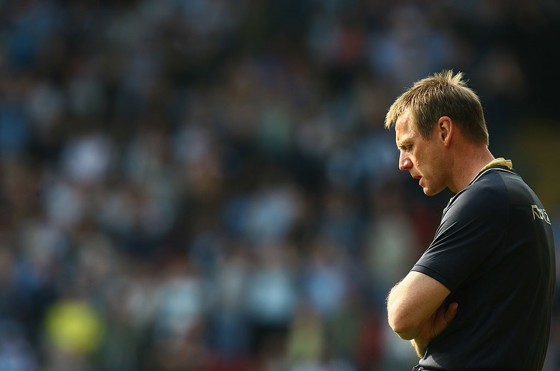 Sandwiched in between those results were three wins in four on the road with goals less of a problem for Pearce's side on their travels, but City couldn't buy a home goal for love nor money.
And what could be the worst possible scenario for City fans in the final home game of the campaign?
It was to face Manchester United and, of course, draw a blank again – and it happened – with Cristiano Ronaldo scoring what would be the only goal.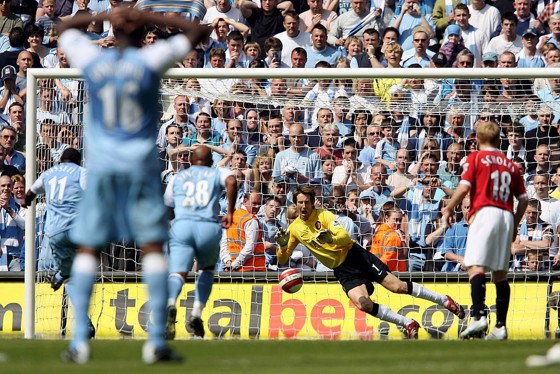 This was despite City winning a 79th-minute penalty, but with the long wait for a home goal on his shoulders, the pressure was too great for Darius Vassell who saw his spot-kick easily saved.
It's hard to imagine an hour passing without a goal with the attacking football City have played for the past decade, but the 2006/07 season had ended with eight home games and not one single Premier League goal since Samaras' penalty way back in January.
For Pearce, it was then end of his time at City with only relegated Watford matching the total of 29 goals scored that campaign and just four points separating City from relegation.
The facts were at odds with each other – unbeaten in the first eight home games, no wins in the final eight home games.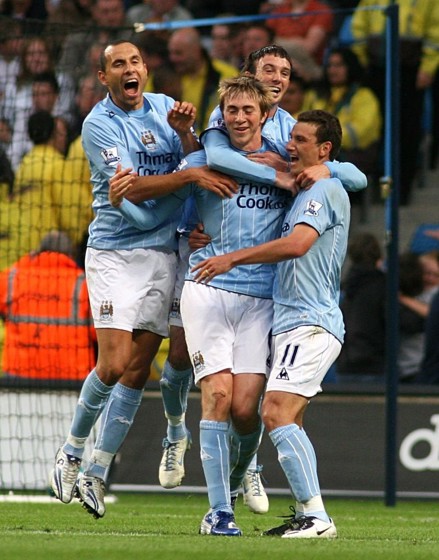 Sven-Goran Eriksson took the reins as manager for the 2007/08 campaign and in his first home match, on 43 minutes, a beautiful goal scored by Michael Johnson against Derby County finally ended the drought.
If the Rams supporters at the Etihad that night thought the home fans over-celebrated the goal, perhaps they weren't aware it was our first on home soil in 781 minutes (13 hours and one minute) – and that doesn't include injury time minutes that weren't always officially recorded in match reports.
The 226-day famine was over and, as was our DNA back then, City then won nine Premier League home games on the bounce to reach December 27 with a 100% record on home soil…
Now, enjoy the Michael Johnson goal one more time