Rugby World Cup winner and City fan Will Greenwood gives us his account of THAT Sunday.
Will Greenwood is a World Cup winner. A sportsman who has experienced the ecstasy of being part of a team that conquered the globe yet he now regards City's title winning triumph as better than lifting Rugby Union's highest accolade in an England shirt.
Will Greenwood's blog
I have been called a fool, a hyperbolic Northern bandwagon-jumping unprintable so and so. But the truth is I just can't pretend that being at Eastlands for Man City's league-winning match against QPR wasn't the greatest sporting occasion I've ever been to, and this includes wearing the England number 13 shirt in a World Cup final.
The day started with nervous excitement, the car full of two lads and two dads, heading north with a giant Abu Dhabi flag in the boot with the simple message written across it's front; "thank you Sheikh Mansour". In the car, a friend Chris Howard and his lad Louis, myself and my eight-year-old Archie.
There had already been tears: Archie wanted to wear his City shirt from the FA Cup final last year, but I'd had it framed. So off we pop, talking formations, set-ups, hopes, fears, possibilities, all the time avoiding the glaringly obvious fact that putting Man City in this situation more often than not ended in tears.
At the stadium four hours early, not missing anything, straight to the shop and a shirt for Archie - "Silva" was his request to go on the back of the shirt with his number 21. I would have gone for Toure - he is a machine.
Some food, fast food, from a stall with a Marco Pierre White sign outside it; everything is an opportunity now that City have become sophisticated.
Then into the stadium and the luxury of a box. Ricky Hatton next door, the polite handshake about as far away as you can get from the mayhem and bodily contact that would follow. More chat about how the results could go our way. Then the realisation that there was also a QPR fan with us.
Some polite banter with the undertone being "do not mess this up for us".
The kick-off comes and the pressure builds. At Sunderland, United went 1-0 up after 20 minutes. The game had changed. The finishing line had just got ever-so slightly further away. The realisation that City had to win to top the league. You could feel the stadium sag. Time to sing; time to lift the team; time to ask them for more. 
Total control but no goal. Then Yaya picks up an injury, not a disaster but not great. He is THE man. Don't go off dude, stay with us. Hobbles around on one leg. I'm thinking no way he will make it when he delivers the through ball to Zabaleta who scores.
I remember it being the 39th minute.
Chaos not for the last time.
Couldn't get to half time quick enough, wanted to chat and settle and discuss where we were.
We mocked United, we worked out they were winning the trophy for 19 minutes, from Rooney's 20th minute goal to Zabaleta's 39th minute goal. Why oh why were we mocking them? Did we not realise it would make the sporting gods angry!?
Into the second half, no Yaya, but it didn't matter we were winning, pushing for the second, and then it happened. QPR scored. The title is United's. QPR fans go berserk as City supporters sit stunned.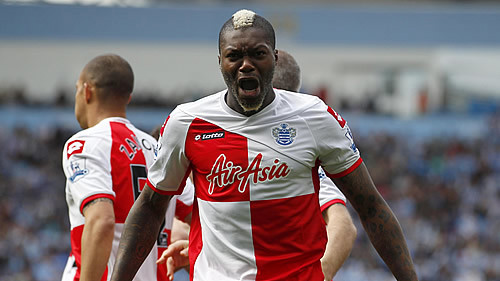 This isn't in the script. 
From then on QPR had everyone behind the ball, they had their precious draw. Until, that is, Barton melts down. Tevez is on the floor, no one saw it, did they? The 'touch judge' did. Chat with the ref, red card, more Barton mayhem (for the record I think Tevez could have gone as well for what he did to Barton in build up to the elbow).
City versus 10 men for 35 minutes – the goal had to come. And it did, but at the wrong end. QPR score again and City are 2-1 down.
Farce. Comedy. Tragedy. What now?
There was despair in the crowd. Grown men, women and little lads crying everywhere. The game was gone, some supporters left early.
City needed a miracle and that's what they got. The subs were all on, Dzeko, Balotelli, kitchen sinks everywhere, but nothing.
Into injury time, the despair, the numbness and then suddenly a lifeline, a corner, a Dzeko header, a goal. The game at 2-2. Still not good enough, but now City only needed one goal with three minutes left. Did we dare to hope?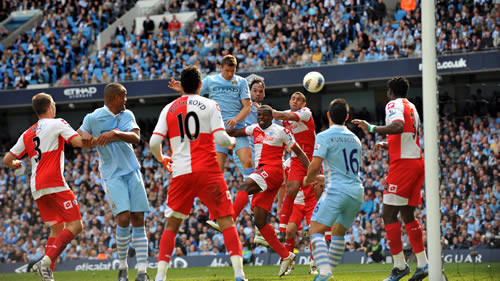 Forward, forward, forward, come on City. Balotelli a touch, Aguero keeps going, skips past one, he was only five yards out, hit it son, hit it.
Christ he hit it, the net bulged and then utter pandemonium. Chaos absolutely everywhere, hugging screaming, crying, adrenaline, heart rate.
My little lad Archie was in paradise, jumping up and down, up and down, up and down. I fell to the floor, I looked to the heavens, I ripped my jeans from my knee to my crotch. That feeling of not knowing what to do with yourself.
The complete and utter, unfettered joy, of winning when it mattered the most.
So why was it better than winning the World Cup? Because on the field you can influence play, you are in the moment, you are doing your job. In the terraces you are outside the sphere of influence, helpless, a bystander at the whim of the action in front of you. You can't feel this as a player.
The day was all about hope, nerves, worry, celebration, despair, abject despair, hope, and then utter madness.
It went on for 30 minutes, the pitch was invaded, the pitch cleared, the trophy presented, all the time the craziness not sinking in.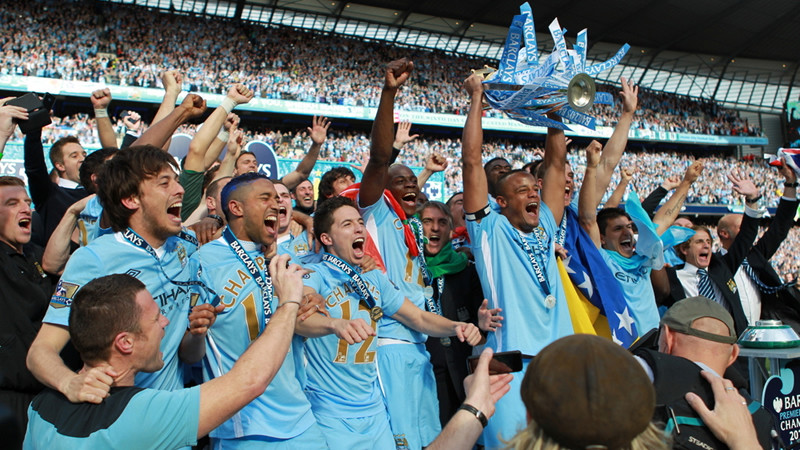 City had done it and I had been there with my 8 year old lad. The drive home was just talk of the match, the sheer joy on Archie's face, the heart rate still mental, the utter surreal nature of the day. I will be talking of it to him on my deathbed; he will be telling his grandkids about it in 70 years time.
Now try and tell me it wasn't better than winning a World Cup.
By Will Greenwood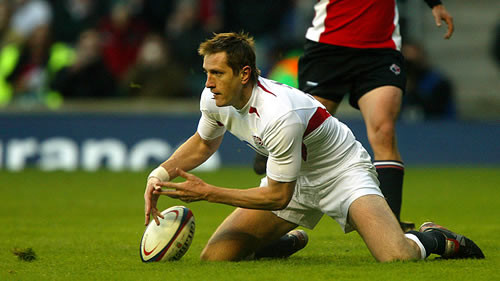 Will Greenwood is not the only rugby union player to follow City. Chris Robshaw, the Harlequins captain and Arsenal fan, paid a visit earlier in the season to wish Vincent Kompany and the team good luck.
Both Robshaw and Greenwood will be at Twickenham for the May 26 Premiership final. One will be watching, the other playing.
Greenwood is the latest to give his reaction to that day of days - for further reading, take a look at Chris Bailey's tear-jerking account or this spine-tingler from Marc Stein. There won't be a dry eye in the house.