Club News
1
Cityzens: Get 20% in the CityStore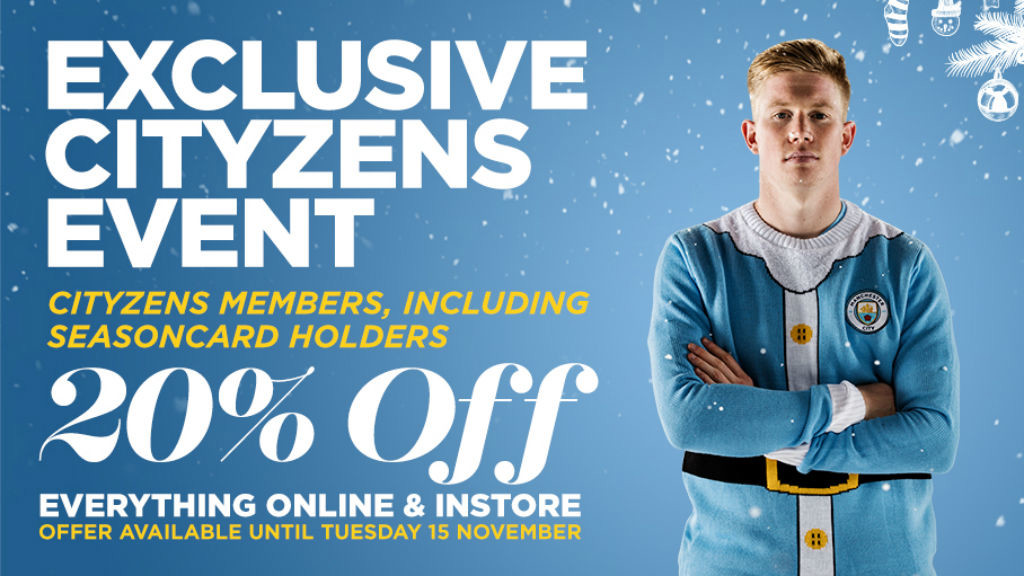 Cityzens can get a head start on their Christmas shopping this weekend with an exclusive discount in the CityStore.
All members and Seasoncard holders can benefit from 20% off* online at Mancity.com/shop or in the CityStore at the Etihad Stadium and on Market Street.
In store, show your valid 2016/17 Seasoncard at the till and online simply log in using your 2016/17 supporter number to redeem your 20% discount.
The perfect opportunity to shop the new City Christmas range, which includes a festive range of gifts and souvenirs, novelty Christmas tees and this year's Christmas jumpers, which are both available in adult and junior sizes.
This year, fans can choose from two jumpers depending on whether they're Team Santa or Team Elf. Pick your team and don't forget to vote for your favourite, here!
Plus, when you buy a Christmas jumper Manchester City will donate £5 to Cityzens Giving, helping young people change lives through football.
So don't miss out…make sure you visit us in store or online at Mancity.com/shop this weekend.
Offer runs 10 November – 9AM on the 15 November
*Not to be used in conjunction with any other offer. Excludes 3 for 2 range.