Club News
1
MCFC & MCWFC stars celebrate with Supporters Club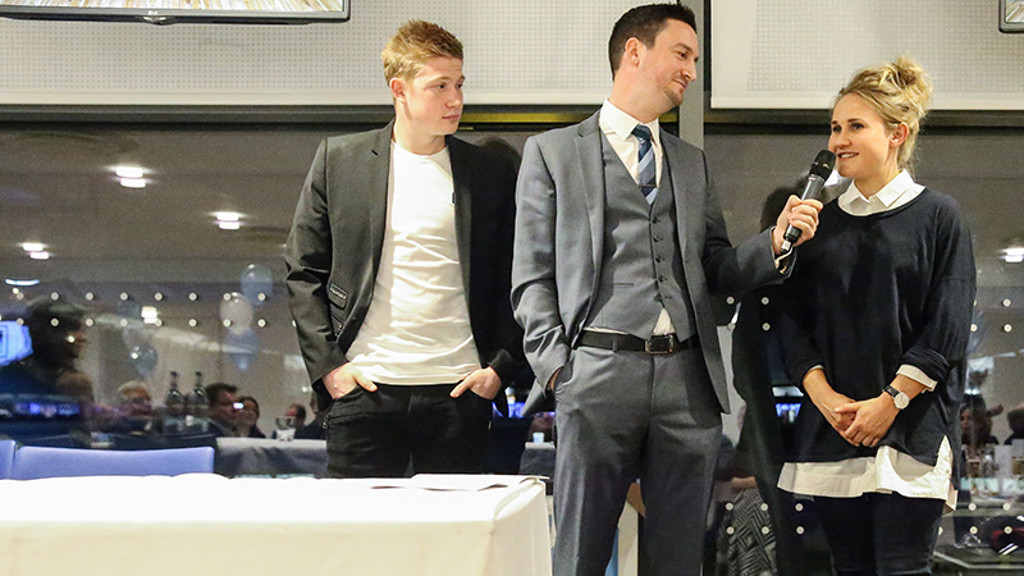 TOGETHER: Kevin De Bruyne and Izzy Christiansen joined fans at the annual Supporters Club dinner.
Every year, the Official Supporters Club host their annual dinner in Manchester bringing their members from far and wide together, to share their experiences as City fans and show their support for the Club's local foundation, City in the Community.
On Friday, 18 March they hosted this year's event in the Legends Suite of the Etihad Stadium with over 400 loyal Blues in attendance.
The Club was also invited to take part in the night's activities and we couldn't think of a better way to say thank you to everyone for their steadfast support over the years, than to be there to share the evening with them.
Thanks to the hard work of the Official Supporters' Club, led by General Secretary, Kevin Parker, it was an evening to remember with former MCFC managers and players, City supporting celebrities and even the Capital One Cup dotted all around the room.
Joining the ocean of lifelong Blues were Manager Manuel Pellegrini, Manchester City CEO Ferran Soriano, who offered the night's opening remarks, MCWFC midfielder Isobel Christiansen and fan favourite Kevin De Bruyne.
It was a night enjoyed by all and the Club would like to take this opportunity to thank the Official Supporters Club and all City fans for their support year in and year out.
See you at the next OSC dinner!