While Academy graduate and Irish international midfielder Glenn Whelan spent four years at City, it is his current home of Stoke City that he is most likely to be recognised for.
Born in Dublin, Whelan joined the Blues from Irish feeder club Cherry Orchard after Academy scout Barry Poynton was alerted to the talented youngster. In 1999 he captained a City Under 14 side containing Willo Flood and Lee Croft to the Milk Cup, and four years later he made his only appearance for City against Welsh side Total Network Solutions at the Millennium Stadium in a UEFA Cup qualifier under then-manager Kevin Keegan. He was 19 years old when he replaced Paul Bosvelt in the second half, playing 17 minutes as City won 7-0 on aggregate.
A month after his debut, Whelan headed to Bury for two consecutive one-month loan spells and also featured in the Republic of Ireland's World Youth Cup campaign. With Sheffield Wednesday showing interest in the youngster, Keegan encouraged Whelan to take the Owls up on their offer and he accepted, moving across the Pennines in the summer of 2004.
It was at Hillsborough where Whelan settled and excelled. He became a first team regular with a keen eye for goal. In his first season he started 41 games and scored four goals, playing a pivotal role in the Club's promotion to the Championship.
His time at the Owls was littered with spectacular goals and he was awarded with a number of Player of the Year awards at the end of the 2006/07 season.
By this time he had established himself as one of the hottest properties outside the Premier League. In January 2008 Stoke City paid £500,000 for the Irishman who instantly helped the Potters finish second in the Championship, achieving promotion to the Premier League. Despite a challenging start to his first campaign in the top flight in the 2008/09 season, Whelan remained determined and scored a crucial last-gasp equaliser at Aston Villa in March 2009. Both the appearance and the goal revived the midfielder, who went on to sign a new four-year contract under Tony Pulis at the Britannia Stadium.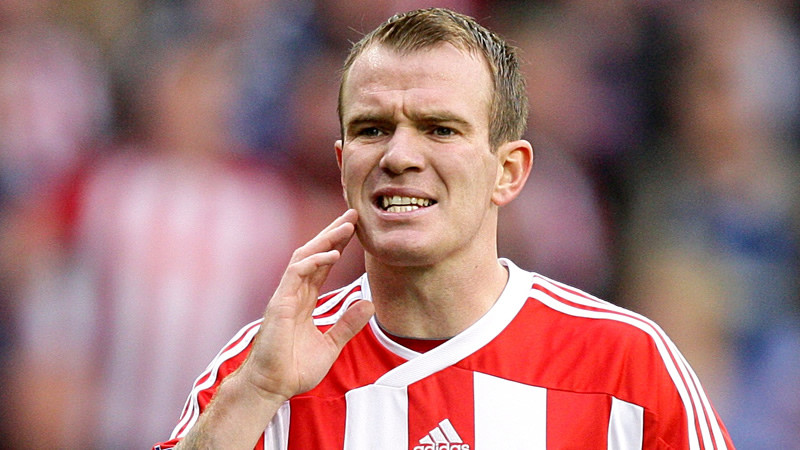 Whelan has since become a regular for the Potters, playing a crucial role in their 2011 FA Cup run. Ironically Stoke faced Whelan's former side City in the final at Wembley Stadium and were defeated 1-0. Whelan has since featured in Stoke's 2011/12 Premier League and Europa League campaign, despite a number of clubs vying for his signature in the summer of 2011.
His international career has also progressed significantly, with the midfielder being regularly picked by Giovanni Trapattoni.