Academy News
1
Premier League U18 fixtures released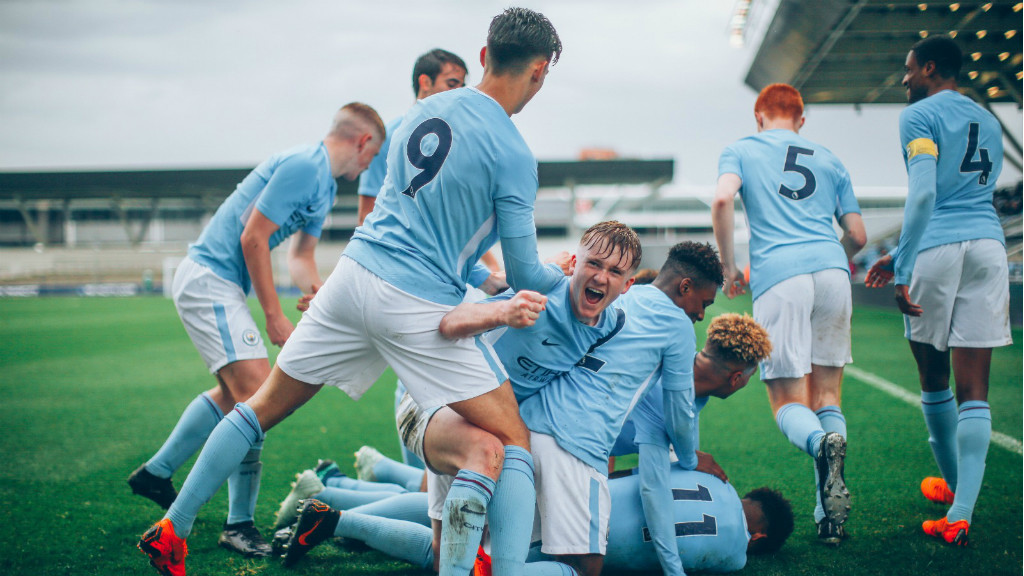 ALL SMILES: Manchester City Under-18s are hoping for more success over the 2018/19 campaign
Manchester City's Under-18 side will entertain Newcastle United in our Premier League U18s opener at the City Football Academy on August 11.
The boy Blues will be seeking to go one better than last season's second-placed finish in the Northern section of the competition.
Following that opening clash, City will then travel to take on Blackburn Rovers on Saturday, August 18.
Amongst the key fixtures for the new season, the first derby against Manchester United, who pipped the Blues to first place in the North group last season, takes place away on Saturday, November 24.
The return fixture takes place at the City Football Academy on Saturday, April 13th.
Under 18s fixtures
Sat Aug 11
City v Newcastle (City Football Academy) - 12.30pm
Sat Aug 18
Blackburn v City (Blackburn Academy) - 11am
Sat Aug 25
Wolves v City (Sir Jack Hayward Training Ground) - 12.00
Sat Sep 1
City v Derby (CFA) - 12.00
Sat Sep 15
Sunderland v City (Academy of Light) - 11am
Sat Sep 22
City v Everton (CFA) - 11am
Sat Oct 6
Liverpool v City (The Academy) - 11am
Sat Oct 20
Stoke v City (Clayton Woods Training Ground) - 11am
Sat Oct 27
City v Wolves (CFA) - 12 noon
Sat Nov 3
City v Middlesbrough (CFA) - 12.30pm
Sat Nov 24
Man United v City (Aon Training Complex) - 11am
Sat Dec 1
City v West Brom (CFA) - 11.30am
Sat Jan 5
City v Blackburn (CFA) - 11am
Sat Jan 12
Newcastle v City (NUFC Training Ground) - 11am
Sat Feb 2
Derby v City (Derby County Training Ground) - 12noon
Sat Feb 23
City v Sunderland (CFA) - 12.30pm
Fri March 1
Everton v City (Finch Farm Training Complex) - 6pm
Sat March 16
City v Liverpool (CFA) - 11am
Sat March 30
Middlesbrough v City (MFC Training Ground) - 11am
Sat Apr 6
City v Stoke (CFA) - 11am
Sat Apr 13
City v Man United (CFA) - 11am
Sat Apr 27
West Brom v City (WBA Training Ground) - 12noon