Academy News
1
Man City U18s v Manchester United: Key battles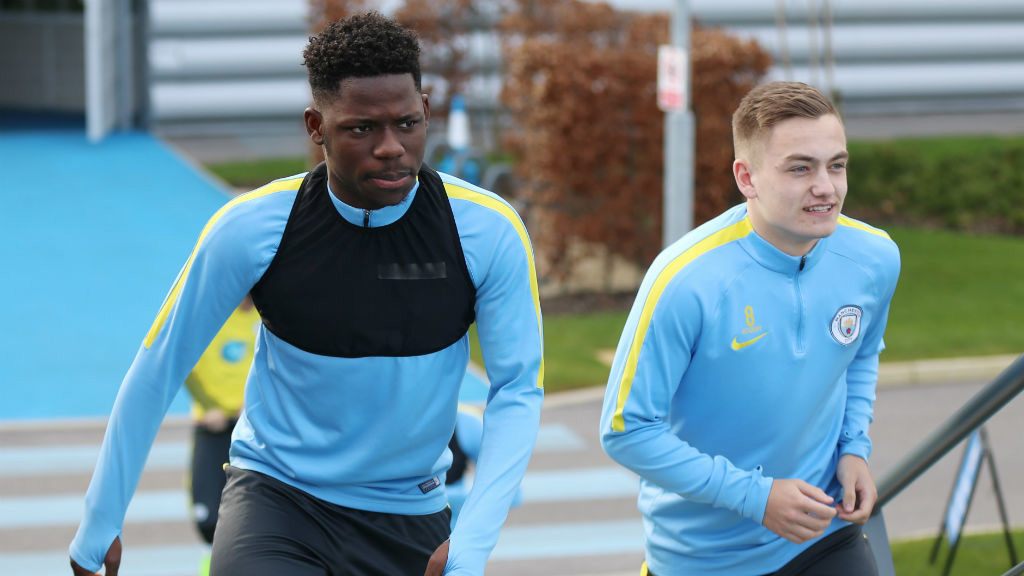 THREATENING TWO: Tom Dele-Bashiru and Luke Bolton could cause problems for United's defence
Manchester City welcome Manchester United to the City Football Academy for their first fixture in the national stage of the U18 Premier League on Saturday but where will it be decided?
City finished top of the north section of the U18 Premier League with 17 wins from 22 matches and took four points from their local rivals.
That stands for nothing now though as they head into the Merit Group A that includes the likes of Chelsea, Arsenal and West Ham from the southern half.
United have already played one match in the league, drawing 2-2 with Liverpool, but where will this match be decided?
Bolton led the assists rankings across the whole U18 Premier League in the first stage, supplying his teammates eleven times.
The right-winger is an unstoppable powerhouse on his day and will look to extend the pitch as much as possible by hugging the right touchline. If he can work enough room to knock the ball past Kenyon, City will flood the box and wait for a killer delivery.
Kenyon is a former winger who has converted to full-back. This means his attacking instincts are a key part of his and United's style and Bolton will have to be wary of the defender's overlapping runs when the visitors have possession.
View highlights of the fixture at United's Carrington earlier in the season...
Two midfielders comfortable on the ball and capable of playing in any role that's possible in the middle of the park.
Dele-Bashiru has been a driving force for City in several matches this season, most notably in the 3-1 victory over Liverpool in the FA Youth Cup, and his control and speed of thought often gives him the edge over opponents. He'll have to think fast to get past Buffonge, who is very capable in one-on-ones whether in or out of possession.
Dele-Bashiru hit two goals and eight assists during the first stage while Buffonge weighed in with seven strikes and created six goals for his teammates.
Want to keep up to date with all the latest EDS and academy news? Follow the new official Twitter account, @ManCityAcademy.
Visit the ticket office for information on how you can support our future.