Marcus Wood achieved a childhood dream at the age of just 16, when he signed a scholarship with the club he has always supported.
A lifelong City fan who hails from nearby Sale, he first passed through the Academy doors at the age of 11 and admits he still get a thrill pulling on the blue shirt worn by his boyhood heroes.
"Signing a scholarship here was one of the best feelings I've ever had in my life so far, because I've been a City fan since I was a little kid, so it's a dream to be honest," Marcus told mcfc.co.uk.
"I've always wanted to play for City and now I'm doing it. It's amazing."
The 16-year-old was originally on trial at neighbours Manchester United, and put together with his love of the blues, it's no surprise that Marcus feels an extra frisson of determination on derby day – at any level!
Almost inevitably, his favourite game for City was one against our cross-city rivals.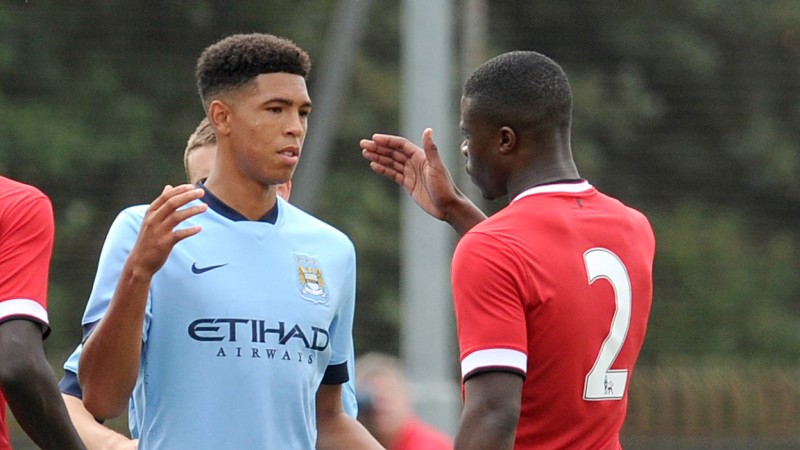 "It was in a Premier League tournament at Finch Farm a couple of years ago, when we beat United 3-1 to go through. I scored one of the goals which was probably one of the best feelings I've ever had.
"As a City fan, I feel the same passion whether watching or playing – I just want to beat them! You can definitely feel it in the dressing room on the day of a derby."
A midfielder by trade, the youngster is one of the most versatile members of Jason Wilcox's u18s squad.
His terrier-like displays in the centre of the park are a vital ingredient in gaining and retaining possession, while he scored a crucial goal in the Youth Cup against Oxford just before Christmas and has turned out at left back this term.
Said Marcus: "My favourite position is 6 or 8, midfield area definitely. One of the main parts of my game is working hard and chasing back, preventing opposition attacks.
"I've played left back a few times this season now, which I'd never done before and it is a different type of position. You've got to get all the way down the line and then back again and being a right footer as well made it a bit trickier.
"I think playing in different positions gives you more appreciation of the others in the team - where they want the ball, and where they want you to be."
Highly valued from a young age in the Academy set-up, he was selected as one of the party to represent City at the 2012 Lion City Cup in Singapore and the tournament gave a tantalising taste of what life could be like as a professional.
Watched by large crowds and playing in front of TV cameras, Wood and his teammates were also grilled in post-match interviews as part of the club's continued aims to prepare promising talent for the years that could lie ahead.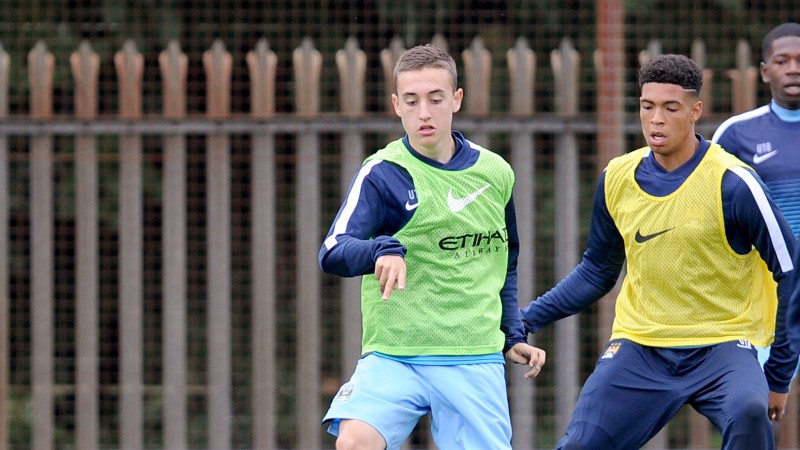 "I've never been away for longer than four or five days and this was a two week thing all the way across the world," he reflected.
"In this country it's not really usual for young players to get much coverage or have a lot of supporters watching them, but when we went to Singapore there were loads of fans, cameras and we did interviews.
"We would go back to the hotel and see our games on TV – it was weird!

...Marcus Wood...
"It was great to be a part of."
Quick to acknowledge the lengths the club go to for Academy players, Marcus is also effusive in his praise for the St Bede's partnership.
One of the first to benefit from the groundbreaking alliance with the Manchester school, the midfielder and his teammates were prescribed a special programme to combine a fine academic education with daily football training.
While it gave the scholars a head start on adjusting to the demands of full time football, Wood argues it also fostered a lasting bond within the group.
He declared: "It made us gel together on the pitch as well as off it and become good friends as well as teammates. It's helped build the chemistry, and the team spirit is great.
"On the school side, we've got our GCSEs so if for example you had a bad injury and couldn't carry on, you've still got something to fall back on."
Confident and articulate, the youngster is enjoying his first steps at the newly-opened City Football Academy, training on the same site as the first team.
However, while he is keen to learn from City's array of internationals, he remains focused on his own game: "I don't really have any player I look up to or model myself on. I just want to try and do my own thing and focus on being myself."