Academy News
1
Spanish youngster shining on Manchester stage
Spanish youth international Manu Garcia is relishing his time in City blue.
The creative midfielder has consistently caught the eye for Jason Wilcox's u18s this season, beginning on the summer trip to Croatia when his silky twist and lob was viewed over 60,000 times on the club's official youtube channel.
Since then, he has blossomed under the careful tutelage of the former Blackburn Rovers winger, and is now a regular name on the teamsheet of the u18s side who raced to the top of the North Division table playing entertaining, attacking football.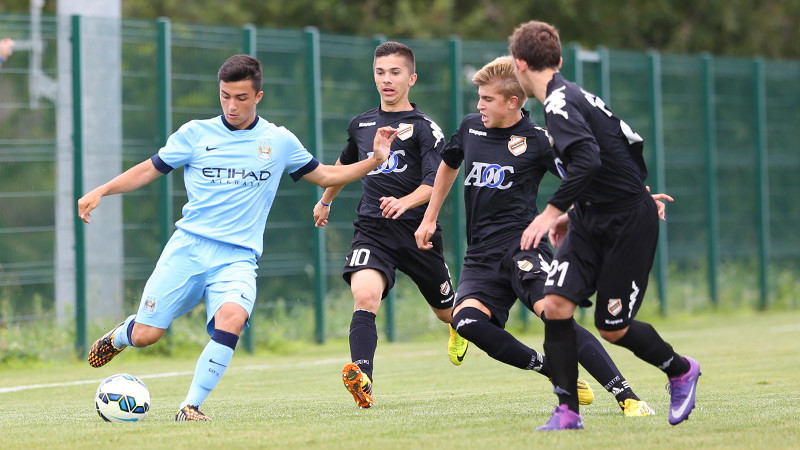 Blessed with multiple offers from clubs in England and Spain, Manu admits it was an easy decision to select City as his destination.
He explained: "I started playing when I was four, I started at my school club and I played a few games there. Then I moved to my local team and from there I moved to Sporting Gijon, who are in the Spanish second division.
"But when I had the chance to come to City, I didn't even have to think about it - I wanted to come immediately.

...Manu Garcia...
"I could have moved to other clubs in Spain but the only place I was thinking of moving to was England. I really liked City, there are a lot of Spanish players, and the programme for improvement, the new Academy, the facilities were all fantastic.
"The first couple of months were very difficult but now I'm really enjoying it."
An exciting player who can excel in the centre of the park or further forward as an attacking midfielder, the youngster is no stranger to a spectacular goal but reveals he enjoys setting up others even more.
"I like to play forward, playing one twos and I like to score, but I prefer to get the final pass for someone else if possible," he declared.
However, there were no such thoughts in the youngster's mind when, aware of the importance of bragging rights in the Manchester derby, the opportunity for a memorable goal presented itself.
Manu's perfectly-placed shot from the edge of the area was well worthy of winning any game, but the Spaniard was especially delighted that it proved decisive against City's local rivals.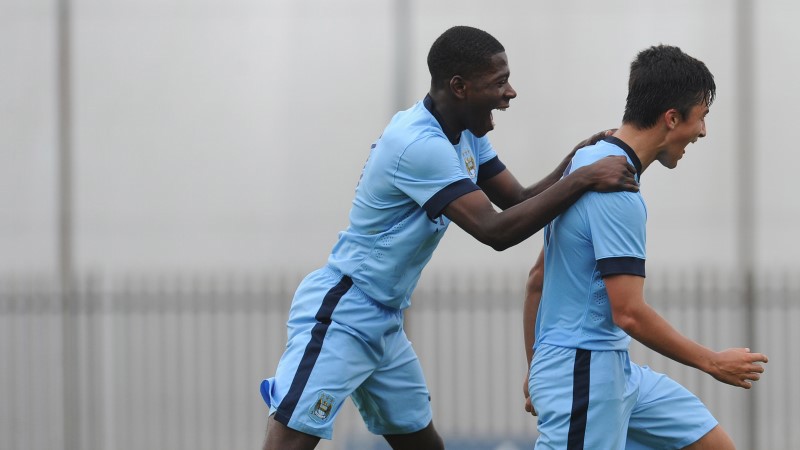 "The goal against United was my favourite because of the importance of it, winning 1-0 at home against United. It was a good goal too I think!" he laughed.
"I knew the importance of that game because in English football United against City, and Liverpool as well, they are very big games. You can feel it in the dressing room that week how important it is to beat them."
He is no stranger to big games in a City shirt already after making his u18s debut against Liverpool, but insists the skill of other players at the club is a big help.
"It felt very good to make my debut, it was against Liverpool and I played the last 20 minutes," said Garcia. "I was nervous at the start because we were winning 2-1 when I came on so the game could change if I missed a pass or made a mistake, so it was hard but I really enjoyed playing with the older guys.
"They make it very easy to play your best."
A popular member of the squad, Manu is confident in expressing his thoughts and ideas in excellent English, honed through his experience in living with a local host family.
However, while the weather doesn't faze our young Spaniard, the food is perhaps another matter.
"I live with house parents at the moment while I'm waiting to go and live in the new facility. It's been really good to live with my foster family but I can't wait to move into the CFA. I think it will be great to have everyone there together, it will be easier for us and we will able to sleep longer in the mornings!" he joked.
"The food is the thing I miss the most about Spain, especially the dishes that my Mum made me. The weather here is similar to the part of Spain where I'm from, maybe it's a bit hotter but still it rains a lot so it's not much different."
While the senior squad may have had a disappointing World Cup, the national Spain set up is fully-stocked with enviable talent at every level in the pyramid and City's Garcia is proud to be one of a select number to have been capped at u16 level for his country.
"I'm really proud to have played for Spain [u16s].
When I knew that I was called up to go for two games against Switzerland it was a very proud moment.

...Manu Garcia...
"When they played the national anthems I couldn't believe it because it was a dream when I was a kid to play for the national team."
As for the season ahead, Garcia isn't one for setting specific targets, and is merely looking to keep building on a promising fledgling career.
He said: "I want to start as many games as possible for the u18s and hopefully try and get into the u19s squad for the Champions League. I don't set targets for goals and assists, I just want to get as many as possible."