Academy News
1
Byrne targeting dream end to u18 season
Jack Byrne
City under-18s midfielder Jack Byrne is determined to overcome the final hurdle against Everton and ensure the Blues finish as National Champions.
Jason Wilcox's young squad have enjoyed a spectacular season so far, and were rewarded for consistent excellence over the course of the regular season with the Northern League trophy, finishing eight points clear at the top.
An exciting 2-1 triumph over West Ham in the ensuing play-off semi-final set up the clash with divisional rivals, Everton, who finished second to the Blues and overcame Spurs to book their own final berth.
Byrne has been a key cog in City's midfield, but he is quick to point to the team ethic which has catapulted the Blues to such success, and admits it would hurt to miss out on being crowned the country's best at such a late stage.
He told mcfc.co.uk: "We want to win. It's great getting to the final but it would be horrible if we got to the final and lost so we want to go one step further and win it now.
"It's our last game as u18s as one group so we are looking forward to Saturday and we don't want to let anyone down.
We want to repay everyone at the club because they have been brilliant with us, so if we can give them some silverware and give a little bit back it would be brilliant.

...Jack Byrne...
"It was a great feeling on Saturday when we scored the winning goal and everyone was celebrating with the bench, Jason and all the staff. It showed we're all we're all in it together and part of the same team."
Jack added: "We all want each other to do well, and it's an overall goal to win because we know we have all helped each other throughout the season. It is a team effort."
The boy Blues were forced to come from behind against the Hammers, but displayed the patience and confidence to continue with the attractive passing style that has made the team such a joy to watch all season.
Like boss Jason Wilcox, Byrne is convinced if City play to their potential, they stand an excellent chance of lifting the trophy.
"We have watched the game back and seen how good we were, and that gives us confidence going into Saturday. We've played Everton already this year and we felt as if we were better than them.
"We know what we can do and that's the most important thing, we don't worry about what anyone else can do so if we play the way we played on Saturday, we know we have a good chance."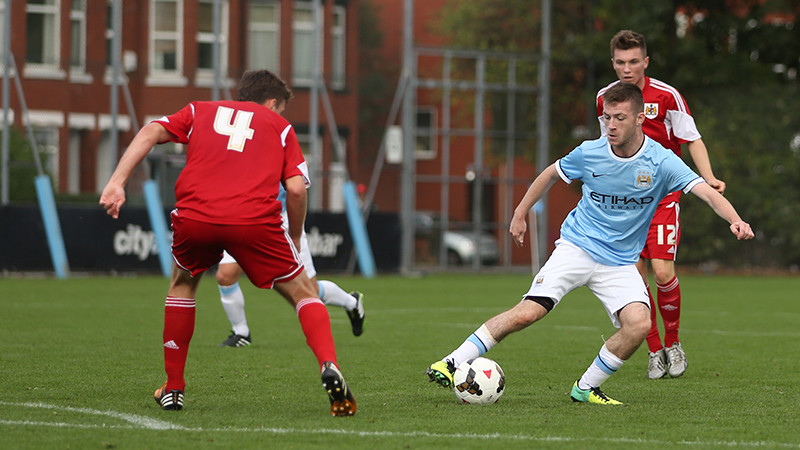 Goodison Park is set to host the encounter, and the Ireland youth international is relishing the chance to impress in a Premier League stadium.
Jack declared: "It's going to be brilliant because they are the games we want to play in. They are the best games for your development and we are all really looking forward to it. Playing at Goodison will be a great experience for us, and it would be even better with a win!"
The 18-year-old has had an impressive season on a personal level, crowned in magnificent style with a call-up to the Ireland under-21 side.
Could everything be set up for the best possible end to Jack's time in the Academy before progressing to the EDS?
"It would be a dream end to the season," he admitted. "It's been a good season already so hopefully we can beat Everton, and then I go away with the Ireland u21s on Wednesday.
"I'm so proud to be selected and my family are so proud of me. Hopefully I can go away and do them proud and the club proud, because it's a big achievement for me."
---
Kick off is at 5.30pm on Saturday 17 May at Goodison Park (L4 4EL). Tickets are priced at £3 for adults and £1 for concessions. We'll have live updates on
twitter
as well as a full match report after full time.