Academy News
1
Barcelona-born Pablo Maffeo relishing life in Manchester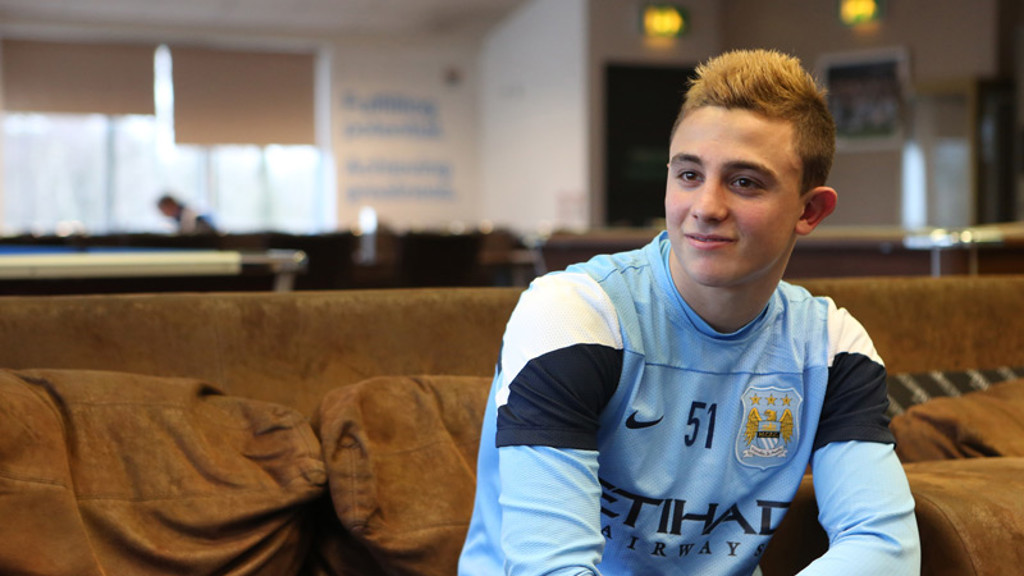 Pablo Maffeo
Pablo Maffeo is probably the first Spaniard ever to name the weather as one of his favourite things about Manchester.
A preference for the grey skies of North West England to the sunshine of Barcelona isn't the norm, but the youngster's answer is typically rooted in his passion for football.
He declared: "The weather is very good for football here. It is less warm, obviously, and the rain means there are lots of grassy pitches to play on. In Spain, they play on astroturf. Grass is much better."
Displaying a natural ability for the game from a tender age, Pablo began playing for a local club at five years old, and within a year he had grabbed the attention of scouts at La Liga side, Espanyol.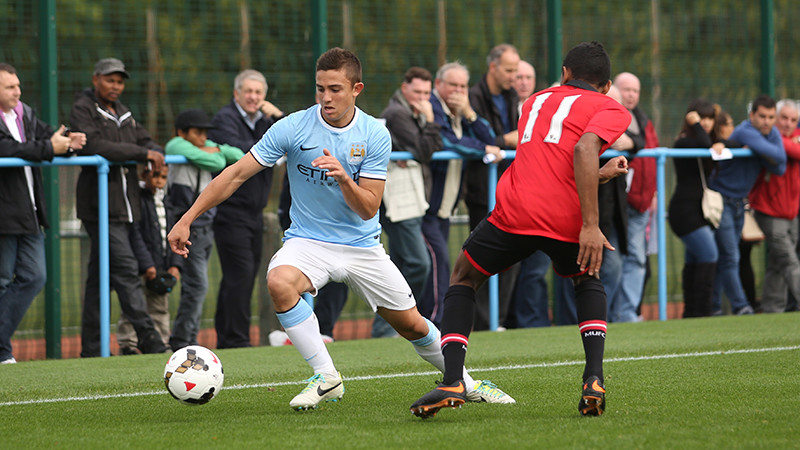 After entering their youth ranks not long after his sixth birthday, the Spanish youth international leapt up through the age groups, and his early potential was realised when he made his debut for Espanyol B at the age of just 15.
The right-sided fullback emerged from the bench as a late substitute to make his league debut against Constancia. He revealed: "It was a bit tricky because all the other players were stronger than me and therefore the game was more physical than what I was used to."
In spite of the early opportunity to shine on the league stage, Pablo is convinced that moving to Manchester was the right decision, after signing a two year scholarship at City in July 2013.
He explained: "I came to Manchester City because it is a great club, one of the biggest clubs in the world, and I think I have a chance to make an impact here.
"The new facilities at the City Football Academy will be amazing. They have shown us photos and videos where we will train when it is finished and it's spectacular. They will be the best in the world.
"It has been great so far. I think I am developing as a player, and I am really enjoying it here."
He added: "The things I miss the most are my family and the food! I don't like the English food as much and my family is really important to me.
"When I arrived in Manchester I went to live with a local family. The first month was very difficult, but it is better now because I can speak some English."
A confident and lively character on and off the pitch, Pablo has embraced the challenges of making the switch, and is happy to chat in English about his experiences.
After shaking off an injury that delayed his City debut, the 16-year-old has now made the right back slot his own as part of an under-18 squad chasing league glory.
A regular starter as the Blues romped to the top of the Premier League North Division, Maffeo was also involved with the FA Youth Cup campaign and already has two goals to his name.
"It was really special to score my first goal," he smiled. "All the boys were really happy for me, and ran over to celebrate with me. It's a really good group, like a family.
"It has been a little bit difficult to adapt to English football because it is a little bit stronger again after playing in Espanyol B, and you need more energy.
"But everyone always wants to help you succeed, which is great."
The defender has also experienced a continental challenge in his debut season in City colours, as part of Patrick Vieira's EDS squad for the under-19 UEFA Youth League. City have qualified for the quarter finals in the inaugural year of the competition, and Pablo is hoping to be involved when the Blues face Benfica in the next round.
He said: "I hope I can play in that game but of course everyone wants to play and we all want to win – it's the Champions League."
One of the cream of his country's young crop, Pablo has represented Spain in the under-15, under-16 and under-17 age groups, but admits he still gets a thrill when he gets the call: "Although I have been playing for Spain for a while, it still feels special to be asked to represent my country. I'm really proud to be selected, and it's my dream to play for the senior Spain side one day."
For now, succeeding at club level remains at the forefront of his mind, and there can be little motivation greater than watching the Blues take on Barcelona in the Nou Camp.
After growing up in the Catalan city, and admiring the style and skill of defender Carles Puyol, there is only one team Pablo will be supporting.
"I think it will be a great game to watch and I definitely want City to win!"