Academy News
1
James Horsfield stays loyal and local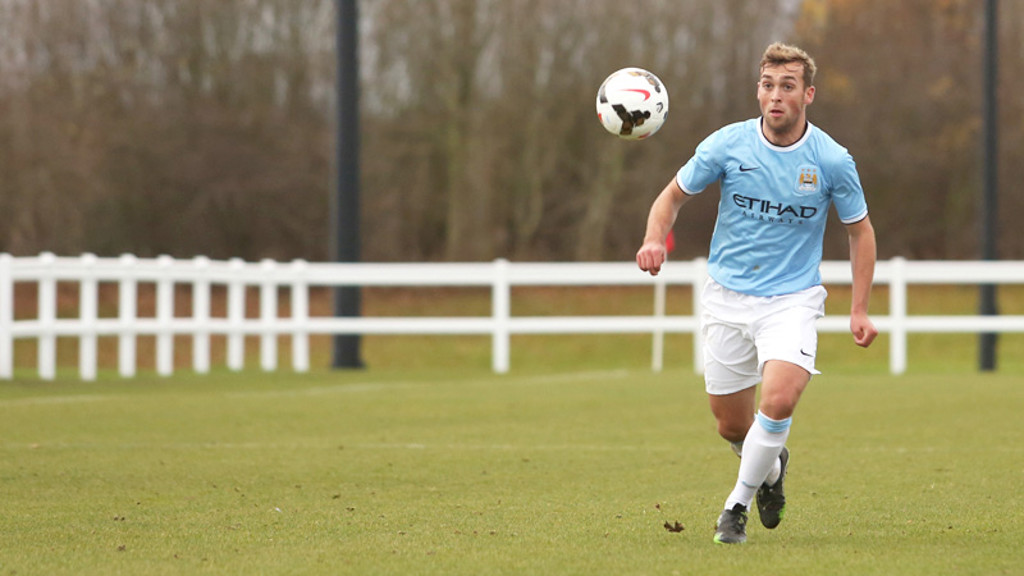 horsfield
Academy midfielder James Horsfield can genuinely claim to be a one club man.
Training with City since the age of six, the 18-year-old is now in his 11th season with the club and an integral member of the under-18 side which sits top of the North Division league table.
He revealed: "I started off playing football at school. I went to Queensgate Primary which is pretty local to City, and when I was in year 1 we had a random PE lesson and a City scout just happened to be there. He scouted me just from that one PE lesson, which was rather strange!
"I came in through the satellite system and was signed at the youngest age group – under 9s, and I've been here ever since!
"It does feel good to be a one club man. I've been here a long time and I've enjoyed it so there's nothing else I can ask for really."

...James Horsfield...
Together with the pride of playing for his local team, James admits he's been lucky to be able to deal with the pressures of being a young footballer with the support of his family around him.
He explained: "I'm very good friends with Jack Byrne and the rest of the lads who live in digs and they hate being away from their families, friends and girlfriends. I've got it all round the corner so I've been lucky in that way too."
Known to everyone as 'Horsy', the midfielder impressed at every level of the academy pyramid and made his debut for the under-18s while still eligible for the under-16 age group.
Rewarded with a two-year scholarship at the club in July 2012, he is now one of the more experienced members of a side going for glory in the league and FA Youth Cup.
A versatile player who can fill in at right back as well as catch the eye in the centre of the park, James can also take a mean penalty – he is the only member of the team with a 100% success rate from the spot this year.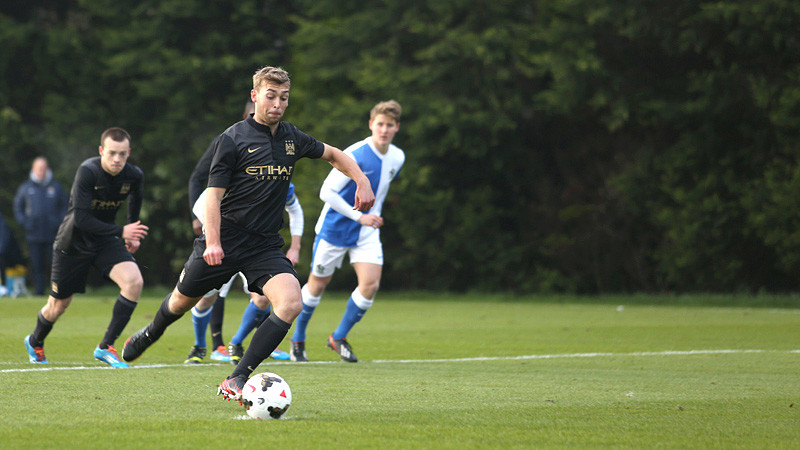 Reflecting on the campaign so far, he said: "I think it's going really well. We're unbeaten in a run of games – seven – and to be honest I am just trying to keep up that level of performance. It's an important time in my career at the moment. I don't know what's around the corner so I am giving 110% every game and trying to make sure we get three points.
"I've played right back a few times this year but now I'm establishing myself in midfield. I've played the majority of games there and I enjoy playing in that holding midfield role."
Academy coaches have also been quick to recognise James's leadership potential, and he has worn the captain's armband for the under-16s and under-18s.
His suitability for the position was in evidence in the first league game of the season, when he came off the bench when City had fallen 4-1 behind to West Brom and had been reduced to ten men. James could be heard motivating his tired teammates and he was at the centre of a remarkable comeback that saw the game finish 4-4 and the Blues leave the Midlands with an unlikely point.
"I don't shout at people, I just like to encourage my team and if we're losing I tell them to keep going," he said. "I like to lead by example. If someone makes a mistake I'll go and win the next ball back, to show everyone it doesn't matter and that we just need to get on with the game and go and make up for it.
"We've got exceptional talent throughout the team, I wouldn't say there is anyone who struggles, and I am privileged to be in that team."

...James Horsfield...
As a promising midfielder, Horsfield doesn't have to look too far to find role models. Manuel Pellegrini's first team squad is brimming with first-class talent in his position.
"My favourite ever player was Zidane. I think he's a great player and I love watching him, but in our first team there are plenty of fantastic midfielders to look up to," James enthused. "I admire Yaya Toure, Javi Garcia, and Gareth Barry was another one. They are all players that are brilliant on the ball, and it's great they are at the same club and I can learn from them."
While acknowledging the depth of talent at City's disposal, James is quick to point to recent examples of the chances given to academy products. Marcos Lopes has appeared for the first team in the Capital One Cup, while Emyr Huws recently made the bench in a Champions League encounter.
He declared: "It's really encouraging seeing people get those opportunities. George Evans is a very good friend of mine and he broke in last year. It made me think it is possible and I can do it."