Academy News
1
Nathaniel Oseni flourishing in full-time football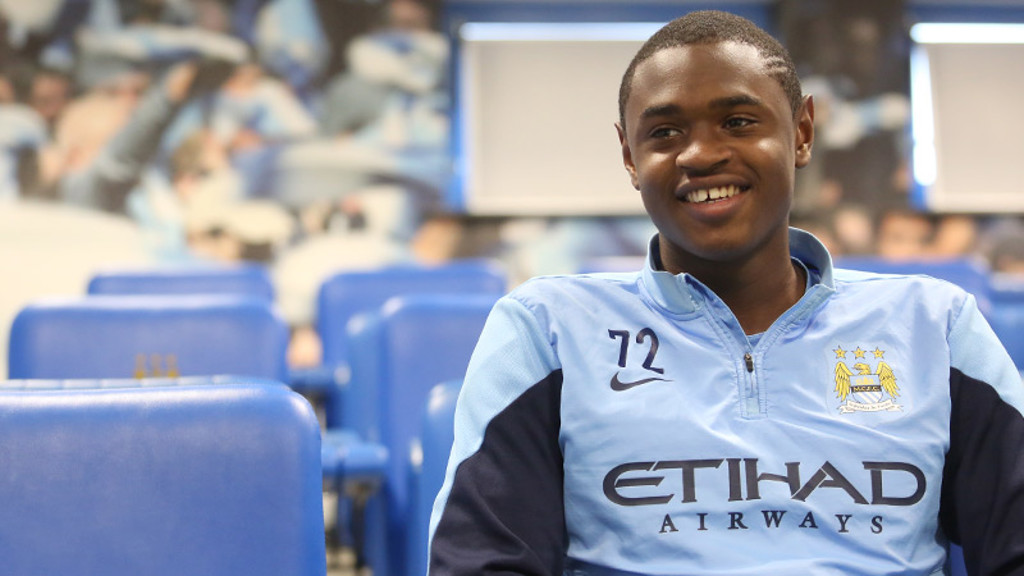 Not one to shy away from a challenge on or off the pitch, London-born centre-back Nathaniel Oseni has consistently pushed himself to attain higher standards.
Leaving home at the age of 14 to pursue his footballing dream, the 17-year-old now has his sights set on multiple trophies, and making the step up to Patrick Vieira's Elite Development Squad.
He reveals: "My target at the start of the season was to win the Youth Cup, to win the league and try to push into the under-21s by the end of the season."
Eager to join City and ply his trade at the highest standard possible, Nathaniel left the capital to seek his dreams in Manchester, and immediately began proving himself in the age groups above his own.
"After I left Fulham I went to a showcase, where lots of scouts from different clubs come to watch you," he reflects. "I had a few clubs interested in me and I picked City because I wanted to start at the highest level I could.
I had a two week trial and they offered me a contract for under-15s, but when I came I started playing with the under-16s."

...Nathaniel Oseni...
Quick to demonstrate his footballing ability to the Academy coaches, the young defender was rewarded with his debut for the under-18s while still a schoolboy, and is quick to point to the benefits of those early challenges.
Oseni admits: "It's a lot of pressure. As a youngster coming up there is so much expectation, but it was a really good experience and it helped me learn. They were stronger than me, so I had to adapt and change my way of play."
While the transition may have been smooth on the pitch, the move north was a bit of a culture shock for a 14-year-old accustomed to London life.
"At first it was quite hard to adapt because when I moved up I lived in Carrington, which was like a whole new different place. In London everything is close together and moving to Carrington I felt like I was living in the Wild West!" he laughs.
"It's literally in the middle of nowhere! But recently I moved to Stockport which is better. It took some time at first because it was hard being away from my Mum.
I still miss her but it's just something I have to do for my career."

...Nathaniel Oseni...
A strong, confident defender, Oseni started life as a midfielder, which may explain his strength and composure on the ball. Looking up to players like Yaya Toure and Thiago Silva, the youngster is adept at stepping out of defence to start a move or cut out the opposition pass, as well as excelling in one on one situations.
Now a regular in Jason Wilcox's squad he has been a formidable presence at the back as part of a team enjoying a remarkable season.
Top of the under-18 Premier League, they are on course to achieve Nathaniel's summer ambitions while playing an exciting brand of incisive, attacking football.
"I put our success down to teamwork and putting the effort in every day in training," he adds.
But while the attack has had a familiar look, the back line has had a much less settled line-up, and Nathaniel has had five different partners at the heart of defence so far this term.
While the defender acknowledges the challenges that come with adjusting to a new combination, he points out that the playing relationship is developed and sustained over years, rather than weeks.
He explains: "At first it was hard when I played with Charlie, because I had never played with him before, but me and Tosin have been playing together since the under-16s and we both played in the under-18s early too. We have had a lot of time to form a good partnership. I know his strengths and weaknesses and he knows mine."
In addition to understanding how to play with a succession of new teammates, Nathaniel has been learning about the demands of being a full time professional footballer. His attitude and abilities won him a two year scholarship at City, signed in July 2013, and he reveals the rigours of the new regime can be hard on the body.
"The difference between being a schoolboy and being full time is it's a lot more demanding and a lot more tiring, because as a schoolboy you train twice a week and now you train every day which takes a lot out of you," he declared. "It helps you learn that rest is as important as the training."