Academy News
1
England calling for Brandon Barker
Brandon Barker
Brandon Barker's explosive start to the season has been turning heads at club and international level.
Dazzling performances out wide for City's under-18s have at last led to the sweetest of rewards – an England call up.
The winger already has eight years at City on his CV, despite only celebrating his 17th birthday last month, and has impressed at every age group as he ascended through the academy.
Rewarded for his displays with a two year scholarship at the club, signed in July, Brandon took his place as a full time member of Jason Wilcox's under-18 squad in the summer.
He explains: "I was really proud to sign for City. It's soon to be one of the biggest clubs in the world, and so to be involved here is a great feeling."
Manchester-born Brandon is no stranger to this level though – he first turned out for the under-18 side nearly two years ago while still eligible for the under-15 age group, part of a side which recorded a draw against Liverpool in January 2012 after first appearing as an unused sub against the same side two months earlier.
"It was exciting to think that the manager obviously thought I was good enough, but it's a lot tougher than playing against people your own age," he recalled.
Now the age gap has closed at under-18 level, Brandon evidently has no intention of slowing down. He has made a spectacular start to life as a City scholar, turning in a number of man of the match performances for Wilcox's men.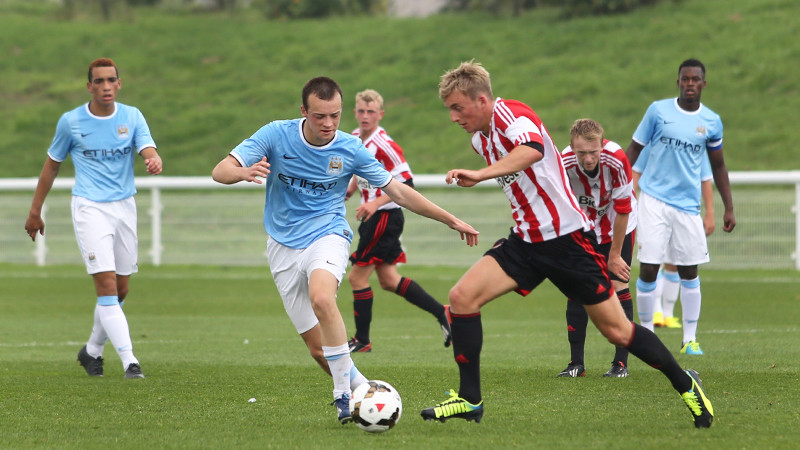 Although he was reluctant to set a number of games to aim for, he admitted: "I said to myself that I have to score ten goals before Christmas, but I'm not sure if I will achieve that yet."
If it wasn't his goals, it was probably his dribbling, blistering pace and the amount of chances Brandon creates for his teammates that have had the national side knocking on his door.
The Academy prospect was selected for the England under-18s for a double header against Hungary in early October, and for this promising youngster, it was the realisation of a long-held dream.
"Since I was in the under-16s, when the Victory Shield squad was first announced, I have been looking to see if I was in the squad," Brandon remembered. "I have been working towards it every year and it has been my main goal. It is fantastic to have achieved it.
"I found out from Jason Wilcox. He told all of us that Ash Smith-Brown and Angus Gunn had been selected, and then as everyone was congratulating them he added that I'd been called up too!
"Everyone was really happy for me. We are very close and supportive as a group. Most of the under-18s are internationals and it's like a second family.

...Brandon Barker..
"I rang my Dad as soon as I found out. He was buzzing, because he's wanted it just as much as me. Mum and Dad have had to make sacrifices for me, especially in bringing me to training and matches, so it was great to be able to give them the news."
Part of a squad largely composed of players a year his senior, Brandon started the first game and had a dream debut, setting up a goal and impressing with his attacking flair.
"It was amazing," he smiled. "I was quite nervous before kick-off but as the game wore on I thought this is going well, this is what I've been working for, so I have to take my chance. When I set the goal up that just made my day."
The European stage has also been beckoning Brandon this season, and he has taken his place in Patrick Vieira's EDS squad for the UEFA Youth League, coming off the bench in three of the opening four fixtures, against Viktoria Plzen, Bayern Munich and CSKA Moscow.
City are in a strong position to qualify for the knockout stages of the competition, currently in its debut season, and Brandon has been enjoying the opportunity to test himself against top sides from across the continent.
He enthused: "It's been a really good experience, playing against teams from around Europe.
"That's another big goal for me this season, to play a bigger part in that squad. It's a really strong team with a lot of very good players, so it's going to be really hard, but hopefully I can do that."
With everything else he's achieving this term, you wouldn't bet against him…