Angus holding
Angus looking to follow in his father's footsteps for club and country.
If there's one thing City under-18s keeper Angus Gunn isn't stuck for, it's role models.
With former Scottish international goalkeeper Bryan Gunn at home and England's no.1 at the same club, it's no surprise Angus is enjoying a growing reputation in the game, both at the academy and at international level.
Gunn recently returned after a successful operation on a troublesome hip injury and is now keen to make for up for lost time to plot his ascent through the age-groups.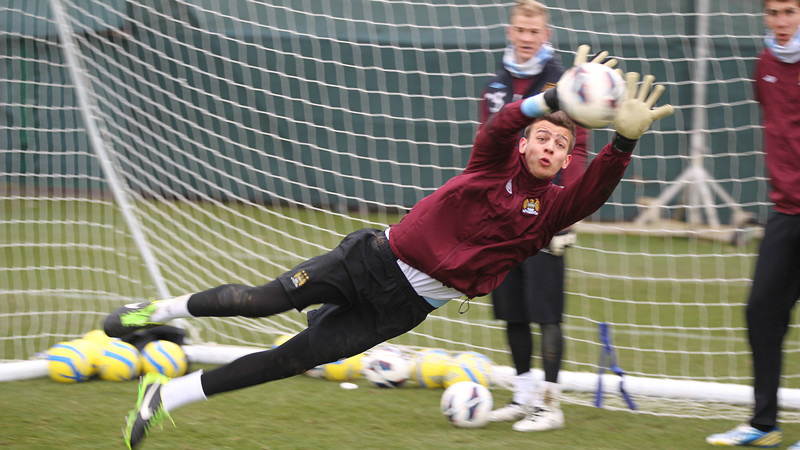 "It has been frustrating watching all of the lads play and especially with the new league system," he said, "having teams like Chelsea and Norwich in the league, it's something new to the programme."
A responsible, confident and highly intelligent 17-year old, Angus is well-versed in performing above expectations, having represented City EDS in the NextGen Series at 15, and for England u16s in the Victory Shield last season.
He's now been called up for England u17s for the upcoming Euro Elite Qualifiers alongside teammates' Kean Bryan and Ashley Smith-Brown.
Gunn has also trained alongside Joe Hart at Carrington, an invaluable experience in his development.
Joe is one of the best keepers in the world, normally he doesn't have to show it but when he played against Borussia Dortmund in the Champions League earlier in the season he proved just how good he is.

...Angus Gunn...
"That has got to be one of the best goalkeeping performances I've ever seen.
"A lot of players you see on the pitch are quite uptight and stressed out but Joe is relaxed, he looks like he's enjoying it which is really good to see."
In retirement, Bryan Gunn has plenty to look back on and savour, not least a European Cup victory over Bayern Munich with Norwich City.
However, the man who made more than 400 league appearances says that while he'll always be there to offer Angus advice, he trusts City's coaching staff to develop his son into a top class goalkeeper.
"I'll only offer advice if it's needed or if Angus asks for it, such as in the car on the way back from a game like my father used to do – that's the opportunity to talk through the game in a casual way," Gunn said.
"I'm working at it as a father as Angus works hard with the Manchester City coaches and I don't want to interfere with any of that as they know what's best for him."
Angus was only two-years old when his father played his final game for Hibernian but that doesn't mean he hasn't done his research.
"I wasn't that aware of his career when I was growing up as he had hung up his gloves around when I was born but when I was growing up and started playing I became more aware of it," Angus said.
"I used to watch all of the videos and he would tell me all about their European Cup run with Norwich and the match against Bayern Munich.
"Sometimes I do get embarrassed by it but when you hear the stories and see how well treated he is and how well respected he is still, it's really nice to see."
It's an embarrassment that is apparently shared by his father.
"Every now and then an old Norwich game will pop up on television and I get quite frustrated as he laughs at me when I let goals in and that's all they seem to show!"