It's been an exciting summer for Denzeil Boadu.
The 16-year-old swapped London for Manchester when he moved from Arsenal to sign on as a first year scholar for City in July, and enhanced his growing reputation at international level by grabbing his first hat-trick for England under-17s.
Signing his first contract as a full-time footballer has enabled the talented youngster to take his next big step up the footballing pyramid, and Denzeil is determined to seize the opportunity.
"It felt like another dream come true," Boadu recalled. "My goal is to become a professional footballer and being given that chance at Manchester City was like another chance to fulfil my dream.
"After leaving Arsenal I didn't want to go lower, I wanted to be at the best club possible and in England I think that is Manchester City."
A skilful playmaker with an eye for a deadly accurate through-ball, the youngster can also frighten defences with his strength in possession when dribbling.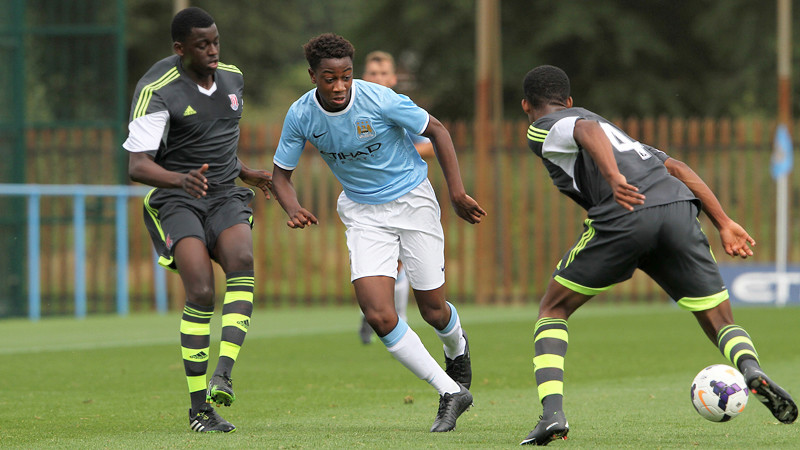 Bedding in fast to an under-18 side that is learning under a new manager this season after Jason Wilcox's appointment this summer, Boadu speaks highly of his experiences under the former England international.
"Working with Jason has been interesting because he has a different style to all the managers I have ever had before," he revealed. "I was often told that I could go anywhere on the field and play however I wanted, but Jason has moulded me into more of a team player.
"It has been good for me because he has made me realise it's not just about me - it's a team game, and sometimes I may have to pick up positions where I'm not going to get the ball but it helps the team out by making space for other players."

...Denzeil on Jason Wilcox...
One of two City players selected to take part in the Nordic Tournament with England under-17s in August, Denzeil set the competition alight with four goals in as many matches.
The lure of international action is a big draw for the Londoner, who dreams of shining for the senior team one day.
"Last time I got a run out was late last year and ever since then I have been waiting for an opportunity to get that shirt back on and represent my country, so I when I found out that I was picked I was really excited," he explained.
"When I go away with England they play me up front so I set a target for myself of four goals in four games before the tournament started so I was really pleased to achieve it. I only had one goal going into the last game so I knew I needed a hat-trick, and when the third goal went in it was probably the best feeling in my football career so far."
Asked about the differences between international and club football at youth level, he reflected: "With club football it is all about winning because there are leagues and cups at stake. Anything that can be done to get the three points or reach the next round of the cup is vitally important.
"With England sometimes there are friendlies but even the tournaments are often friendly competitions and so the coaches there are working on helping you reach the next age group. It's all about moving from the under-17s to the under-19s, or from the under-19s to the under-21s.
"In club football, whatever level you're at, even though they want to get you through the ranks as quickly as possible the three points are the most important thing on a Saturday."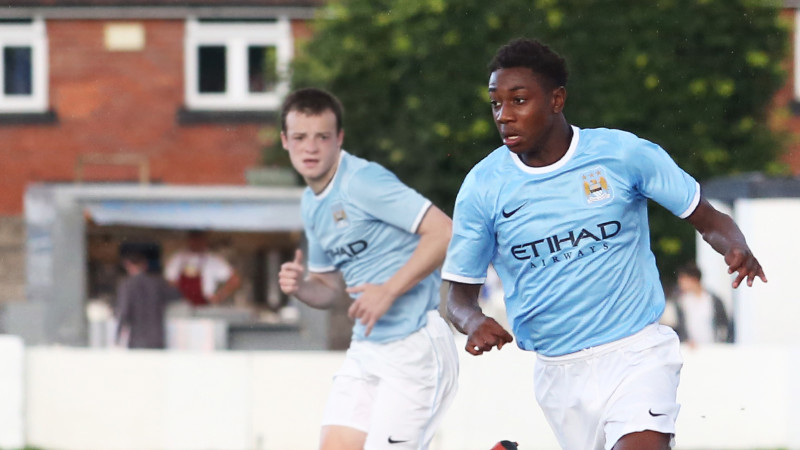 Making the move north from the capital at the age of 16 might proving daunting to some, but Boadu is relishing the opportunity to live in digs with two of his City teammates, both of whom he knew from London before joining the club.
The trio can often be found playing FIFA together, but the young Blue always finds time to attend church on a Sunday.
Believing heart and desire are two of the most vital qualities in a young footballer, the focus and determination Denzeil displays starts long before he steps out onto the field.
"Before a game, I like to relax as much as I can. When I was younger, my Mum and Dad told me to lie in my bed and not to do anything, because even watching TV or repeating song lyrics uses up energy. I nearly go into a sleeping mode so I am bright and alert when the game starts," he said.
The youngster added: "This season I would like to win the league with the u18s and win the FA Youth Cup, as well as hopefully making an appearance for the under-21s. My aim is to play an under-21 game before I turn 17 in February 2014."