STADIUM ADDRESS
Joie Stadium
Etihad Campus
North Gate
400 Ashton New Road
Manchester 
M11 4TQ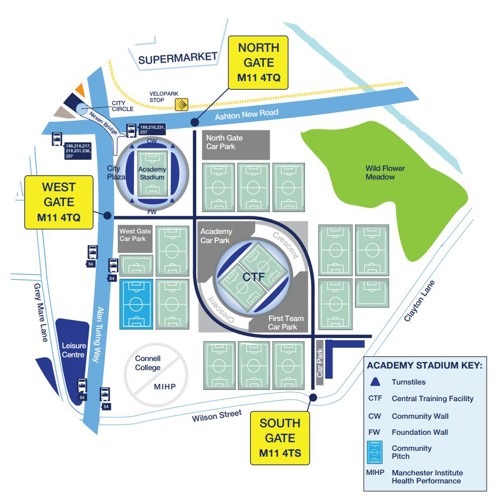 GETTING HERE
Parking is free of charge on the Blue Car Park (M11 3 DW)
From the Blue Car Park, head up Joe Mercer Way towards the Etihad Stadium and then round towards the South Stand to access the Joie Stadium via the Nexen Tyre Bridge.
Please see information below for Blue Badge Parking.
Accessible parking is available at the Joie Stadium on a first-come-first-served basis. Parking can be booked online or by contacting our Access Team.
The Metrolink runs from the city centre from Manchester Piccadilly station to the Velopark stop and on towards Ashton. The journey time from Piccadilly Station takes 12-minutes.
Journeys to the stadium are really easy from the many Park & Ride sites on the Metrolink network. Parking is free for Metrolink passengers. For those traveling from the east or north there are two large Park & Ride car parks located at Ashton West and Ashton Moss.
The journey time to the Stadium is less than 25-minutes. Please note the consumption of alcohol is strictly prohibited on Metrolink trams.
There are bus stops adjacent to the stadium. The stop is the Asda superstore opposite the North Gate entrance. Further information is available at tfgm.com or via Twitter @OfficialTfGM
There is a safe, well lit and signposted walking route available from Manchester Piccadilly Station. Follow the 'City Link' signs. It will take approximately 30-minutes to walk to the Joie Stadium from the city centre.
A resident parking scheme is in place in the streets around the Academy Stadium and this is strictly enforced and identified through on-street signage. Please do not park in these areas as you will be fined and your vehicle may be clamped or removed. Please respect the needs of local residents.
There are a number of satellite car parks around the stadium. The Club does not endorse these car parks.
Do not leave valuables on display in your vehicle and any items left in vehicles are done so at your own risk. The venue accepts no liability for the theft.