CITY+ Watch Together: Relive magical city moments!
English Football may be suspended, but Manchester City fans can still get their football fix whilst at home thanks to the Club's content subscription service, CITY+.
Presented by Marathonbet, CITY+ Watch Together begins this weekend, giving supporters the opportunity to relive some of the most memorable matches from our recent history.
Games will be streamed every Saturday at 15:00 (UK) and every Wednesday at 19:45 (UK) on CITY+, which is free until football returns* and available on desktop, TV and the Man City App.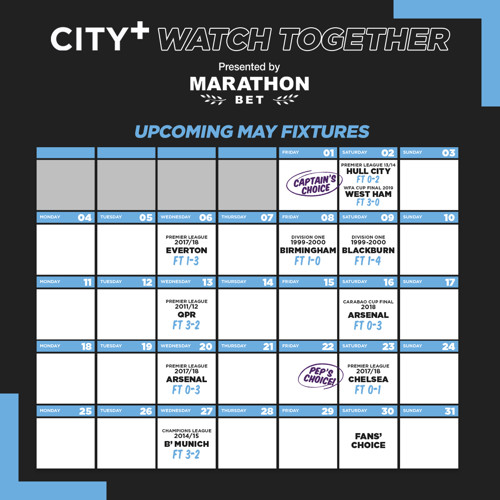 *Once the Premier League / FA / UEFA confirm a date to resume competitions, CITY+ will revert to normal, with a monthly payment of £1.99. New subscribers joining during this grace period will still be able to enjoy the 30-day trial.