Steph Houghton says Saturday's crunch clash against Chelsea is the perfect catalyst to ignite the 2020/21 campaign.
The title rivals collide at Wembley in the first FA Women's Community Shield fixture since 2008, raising the curtain for the long-awaited new season.
Familiar foe in the quest for silverware, the pair last locked horns in what turned out to be our final league game of 2019/20, contesting a scintillating six-goal thriller in one of the FA Women's Super League's most entertaining games.
With the league title awarded on a points per game basis, second-placed Chelsea took the crown and Houghton says the disappointment has fuelled a new hunger for the City squad.
"Talk about easing us in gently!" she joked, previewing this weekend's opener.
"To be able to play Chelsea on Saturday at Wembley is fantastic.
"It will be unbelievable to play at the stadium, although still strange without fans.
"It's important to play these type of teams going into season, which is going to be even more exciting and competitive.
"For us, we were disappointed with the way the season ended, losing the league and being knocked out of the Continental Cup.
"There was still a long way to go in the league and I was confident we could finish the job we started but it wasn't meant to be.
"This Club needs to be winning trophies. There are six available this year (with the two FA Cups and Community Shield) and we'll be trying our best to get our hands on all of them!"
City head into the encounter on the back of a positive pre-season schedule, which saw plenty of goals scored from across the pitch.
Houghton herself bagged a free-kick in Sunday's victory over Everton – before assisting new recruit Sam Mewis' first for the Club – and says the squad are in good shape; already benefitting from new Head Coach Gareth Taylor's tutelage.
"Over the last few weeks, we've been working hard, trying to learn as much as we can," she added.
"The new manager coming in has been good for all of us. It resets us as players. No matter how experienced you are, it's a challenge.
"I've known Gaz for a few years and I've watched a lot of the teams he's coached – they love to play with the ball and control each game. It's similar to Nick Cushing's style in the way he likes to play.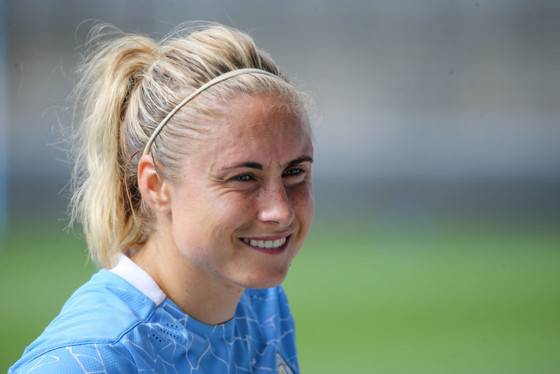 "It's been fun learning and implementing it but also a challenge for us at the back. He wants us to be patient with the ball, pushing us to be at the next level.
"It's nice to see some of the stuff we are doing in training is coming out onto the field. We know we have to keep working on the end product and spread the goals throughout the team.
"We can't just put the onus on Ellen White and Georgia Stanway to put the ball in the back of the net – we all have to chip in!
"The front three work unbelievably hard to press – as do the midfield – and they're getting the goals they deserve. It shows that when you put the work in, you get rewards.
"We've been working hard and to wrap up pre-season with another win really boosts our confidence ahead of the Chelsea game.
"The win over Everton was a really good game for us. Everton are a good side and they came out to press us and make life difficult.
"I was disappointed with the goal I gave away but at the same time, it's important to keep trying things the boss wants us to do
"I thought our build up was very good and it was nice for me to get on the scoresheet and assist Sam for her first goal."
On the subject of Sunday's debutant, Houghton added she has been very impressed with Mewis' instant impact.
Having trained with the squad for the first time on Saturday, the World Cup winner enjoyed a 45-minute cameo against Everton, bagging a goal and two assists!
Houghton hailed her American counterpart's quality and City's summer recruitment, expressing her pride for the squad's strength in depth.
ENJOY EXCLUSIVE CONTENT WITH A CITY+ SUBSCRIPTION
"Sam only trained with us on Saturday," she continued. "To come in and try to learn the way we play with one hour of training on a rainy Manchester day was quite fun!
"I thought she came in and showed what she is about – what the world knows about her.
"There's a lot of competition in the squad. Training has been intense but fun and we're getting the best out of each other.
"When I knew Chloe Kelly was joining from Everton, you want those types of player at our Club. She's a fantastic addition and such a lovely girl.
"It's the same with Lauren Hemp. I look at them both and they have such bright futures. They love to learn and listen, and when they go out on the pitch, they play with freedom, which is what we need."