Steph Houghton admitted she can't quite believe she'll enter her 10th year with City, after putting pen to paper on a new deal at the Academy Stadium.
The iconic defender has signed a one-year contract extension, committing her future to the Club until 2024.  
This means our captain is set to become the first player to reach a decade in sky blue, being part our Women's outfit since our formation in 2014.  
And Houghton is excited to be spending another season in Manchester. 
"I think initially when I first signed for Manchester City, I kind of wanted to be here as long as I possibly could," she explained.  
"To play at that top level and to be competing and I never really put a number on it in terms of 10 years or 10 seasons. 
"I think when you get a little closer to the 10 mark it's like 'okay a decade at this unbelievable club' you kind of want to reach that and I feel really good in myself and my body. 
"I'm really enjoying my football, so [it's] kind of become a really easy decision to be honest."  
Houghton has enjoyed a trophy laden tenure at City – winning four League Cups, three FA Cups and one Barclays Women's Super League title across her 233 appearances in all competitions. 
And she's relishing the opportunity to help push the Club to more major honours, while playing the exciting brand of football installed by the Welshman. 
She added: "I love playing the way that we do.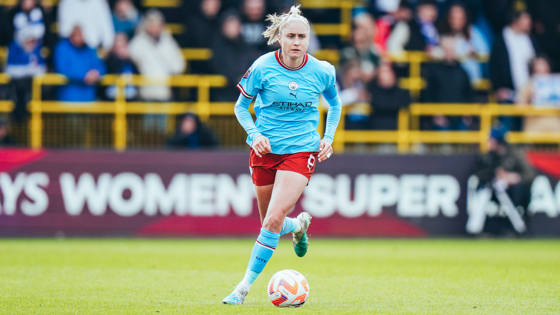 "I love watching when the first team play, the EDS, I watch so much football of this club and I think once you see them pictures and you see how much we've done on the training pitch and it comes off, it's so satisfying.  
"So for me I just love the way that we play and I would say that we just like to control possession and also want to be in control when we haven't got the ball. 
 "I want us to be competing on all fronts in terms of trophies and I want to play a big part in that. 
"I'm realistic to know that I'm not potentially going to play every single game but them games that I do I want to keep my place, I want to fight for my shirt and I feel as though I've done that over the last four/five months in terms of big games and I've proved myself I can play at this level."