Steph Houghton believes she is currently enjoying a peak level of performance, as City continued our excellent recent run.
The skipper, who made her 200th Club appearance in Sunday's hard-earned 1-0 win over Everton, was hailed by manager Gareth Taylor after the game, with the Head Coach stating his captain has 'hit new levels.'
Having kept her 105th clean sheet (and fifth in her last six games), the centre-back is starring at the heart of a rock-solid defence, as the FA Cup winners look to keep pace atop the FA Women's Super League table.
Asked whether she agrees she feels she is playing the best football of her career, Houghton replied: "I'd like to think so.
"I'm really happy with my performances. I pride myself on consistency and I feel as though I'm enjoying my football, and am in the best shape I've been in.
"With Gareth Taylor coming in, it's a different way of playing and I've had to learn new stuff.
"I love playing at the moment. I'm learning every single day and I will always try to prove I'm one of the best centre-backs in England – if not Europe.
"I'll keep my head down and work hard."
The triumph over the Toffees saw Houghton make history once more, becoming the first female player to reach a double century of appearances for City.
Looking back on her trophy-laden journey in sky blue, the skipper says she could not be more proud.
"To play 200 games for this Club is a very special moment," she declared. "It's been a great seven years.
"I'm so proud to be a part of City and I feel like we're leading the way. We've got the stadium, the facilities and even the standard of football.
"I can remember our first game against Liverpool on the astroturf! To see how much the game has come on – and the players we've attracted – is amazing.
"I've been part of the FA WSL for a long time and since then, everyone's wanted to watch and play here."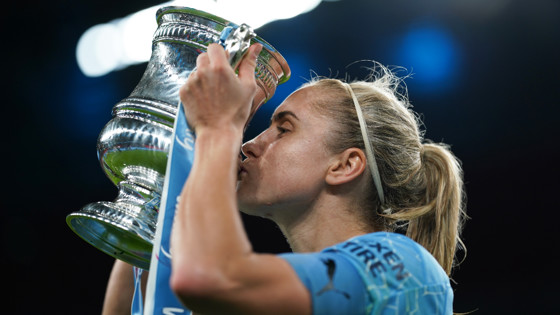 Despite our recent free-scoring form, City had to wait until the 81st minute to break the deadlock against a stubborn Everton side.
Keira Walsh netted the all-important winner with a well-struck first-time effort, sparking scenes of joy, with the captain the first to congratulate her midfield maestro.
Houghton admitted her side had to dig deep to grind out the three points, although she asserts the win was deserved.
"It was massive," she reflected. "That's what makes it more special.
"It wasn't pretty at times – they set up and made it frustrating for us but when it gets to this stage, it's about results.
"The goal was a massive relief. We dominated and controlled the possession.
"It's been a great week for us."