Lauren Hemp is hoping City's Continental Cup triumph over Chelsea will act as a catalyst for further success this season.
A Caroline Weir brace and further Ellen White strike completed a memorable second half turnaround at Plough Lane, as Gareth Taylor's lifted the trophy for a fourth time in our history with a 3-1 win.
After negotiating a difficult start to the season, compounded by an unprecedented injury crisis, City have gone on to win nine of our eleven matches in all competitions since the turn of the year.
And with a potentially crucial tie against Champions League rivals Tottenham on Sunday, Hemp says our Conti Cup success has given City an appetite for further silverware.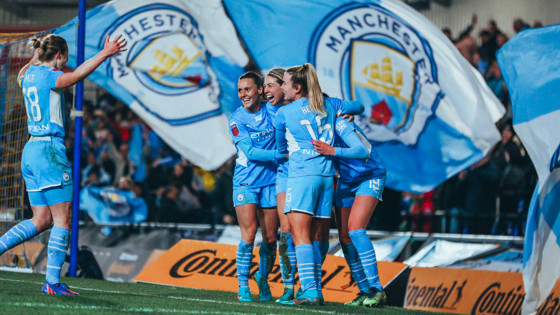 "The top three is really important for us and we really want to get there," she explained.
"It's shown on the training pitch, and it's shown in the games recently that we're all so hungry and want this and we won't stop until we get there.
"It's only the start here, it's not the end even though we've won a trophy it's important we really do push and get in that top three.
"We've struggled a bit this season and we're not afraid to say it, especially at the start.
"It was important we kicked on at the start of this year as well.
"We've had a great year so far and it's been topped off with a trophy win so it's important we now kick on in the league and the FA Cup.
"I'm looking forward to it, it's an exciting few months ahead for City."
City's Conti Cup triumph formed part of an incredible weekend of success for the Club, in which our Men's and Under-18s sides also earned emphatic Manchester derby victories.
And Hemp took the time to congratulate both Pep Guardiola and Ben Wilkinson's sides for their achievements.
She said: "The results for the 18s and the men's team as well was great and to top it off we won as well. It's nice that we've all come together to celebrate that.
"It's not just us who have won a trophy, it's the men's team, it's the under-18s who have all put a shift so it's great to have everyone here to celebrate.
"It's great that City's such a community where everyone comes together and can celebrate this, it's not only the players who do this it's all the staff as well."