Lauren Hemp hailed the impact of 'super sub' Hayley Raso in Saturday's thumping 5-0 win over Aston Villa.
The Australian international enjoyed an afternoon to remember, bagging her first goals for the Club and an assist, as City stormed back to winning ways with a clinical second half performance at the Academy Stadium.
Raso's display was all the more impressive, given she was only introduced on the 64th minute, helping Gareth Taylor's side to hit fifth gear with a hand in three quickfire goals in the space of four minutes.
CITY+ | SIGN UP TO ACCESS EXCLUSIVE CONTENT
Hemp, who added the fourth of the game, smashing home Raso's assist at the backpost, was full of praise for her wing counterpart, deeming the Australian a 'gamechanger' and highlighting the squad's impressive strength in depth.
"She definitely made an impact," Hemp said. "She put the ball on plate for me for my goal.
"It shows the depth of the squad – we have players coming on who can change the game like that.
"It was an important result for us."
Raso was naturally delighted to have opened her City account and craft her third assist of the campaign.
Though the 27-year-old has missed a chunk of the season with a shoulder injury, she now hopes to kick on with her new Club.
The Australian winger was proud of the team's second half tempo and dedicated the win to the fans, who have stuck by the team in the midst of a challenging period.
CITY MAGAZINE | DECEMBER EDITION NOW AVAILABLE
"It's nice for us to come out and get the win," she echoed.
"We've come off the back of tough results but the fans keep turning out for us so we're glad we got the win for them.
"It was definitely about keeping the tempo going. We went in at half-time 0-0, which showed what Gareth Taylor said worked.
"We came out and banged in a few goals."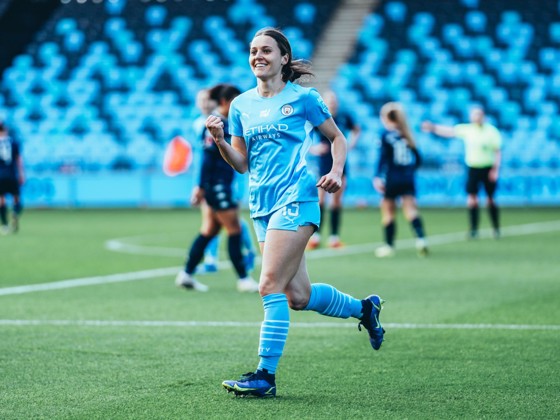 Hemp added she hopes the manner of the victory can prove to be a catalyst for City's 2021/22 season, as Taylor's side look to reignite our league campaign and climb the table.
"Hopefully, we can take that form and continue as we have done today," she continued.
"It will do a lot for our confidence. We have come off the back of a few defeats.
"It's important to take the positives from today's game and take that on throughout the rest of the season."