Laura Coombs: the girl on fire.
With three goals in her last three games – and not just any goals: three Goal of the Season contenders – the midfield maestro is in Blue-hot form.
Her terrific treble marks her all-time best scoring streak and this week, as reward for her impressive displays, the 29-year-old has earned her first call-up to the England squad in five years – an accomplishment she did not think she would achieve again.
Buzzing and brimming with confidence, Coombs now has her sights set on more Derby delight, having marked her first Manchester Derby with another sensational strike on Saturday.
City travel to neighbours United for the second time in five days on Thursday night (live on CITY+), needing just a point to secure qualification to the Continental Cup knock-out stages.
Asked whether we could expect a fourth successive wondergoal, Coombs replied: "I hope so! I'd love to make it four in four, especially with a Manchester Derby win!"
Reflecting on a fantastic fortnight in which she's deservedly been thrust into the limelight, the midfielder admitted she is not used to the stardom but is feeling on top of the world.
"It's a great feeling," she smiled. "I can't believe how much can happen in two weeks!
"It all started at the Liverpool game. It did feel like the start of something at the time.
"I'd been waiting a while to play and in my mind, I felt I had to put in a good performance and show what I can do.
"Getting that goal definitely helped! And then I earned a spot in the Bristol game and scored again.
"I've watched that goal against Liverpool quite a few times but not as many as the one against United!
"I think that one was more special because of the occasion and the fact it was against our rivals – it was the most I've ever celebrated a goal!
"Then there was the England call-up… That came as a surprise – a very good surprise!
"To be honest, I hadn't thought about getting back into the England squad for a couple of years – I'd been focusing on getting into the team at City.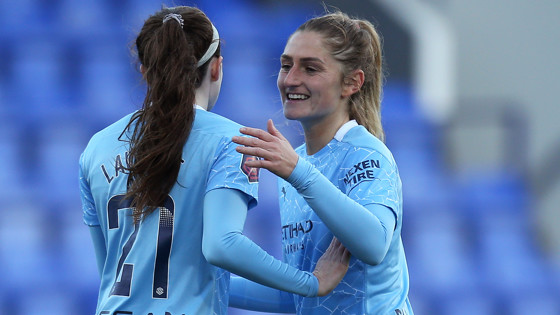 "I'd hoped that with that, maybe something would come but it was more of a hope than anything.
"It's great to be recognised and given the chance to go into camp and again, show what I can do.
"I chatted to Phil [Neville] on the phone and I'm really excited. I phoned my mum straight away and told her not to tell anyone but by the time I got home, I had a million messages!
"It's going pretty well for me at the moment and I want it to continue!"
Coombs' superb form is all the more pleasing, given that her debut season with City was hampered with injury before being cut short due to the COVID-19 pandemic; just as she was finding her feet.
Her recent success is testament to her endeavour, patience and persistence – and the influence of new boss Gareth Taylor.
"I'm feeling pretty confident and good within myself," Coombs added.
"It took me time to adapt last year, coming into such an established squad. I had a few niggly injuries early on and it took me until around February and March to find my form – and then COVID-19 hit and it was the end of the season.
"I knew coming into this pre-season that I felt different within myself. I felt better around the group – more like I fitted in – and Gaz really helped me.
"He's really approachable and a really good guy. We all really like him.
"If I ever have any questions, I know I can go and speak to him. It's really important to have a good relationship with your coach.
"He's changed the way we play and really enforced his style and it seems to be working for me!
"His information and detail has really brought me on a lot, and getting gametime only helps you to improve.
"I enjoy training and the competition in the squad pushes you every day – you have to turn up and be the best version of yourself every day.
"Then going into a game, you feel like you've done the hard work in the week. It gives you a good platform to go and perform.
"We work a lot on the tactical and technical side of the game and I've learned a lot over the summer with a new way of playing. It's helped me a lot.
"It's nice that my teammates are all behind me too. I feel I have a really good relationship with everyone on the team.
"I've got their back and they've got mine and it's great going onto the pitch knowing they all support me.
"I try to have a smile on my face all the time. I'm quite a happy person generally!
CITY+ | SIGN UP TO WATCH EXCLUSIVE CONTENT
"I get to play football every day… I should have a smile on my face!"
Looking ahead to Thursday's Derby, in addition to a fourth goal in four games, Coombs is also targeting victory to seal our Conti Cup progression – as well as the local bragging rights.
"My first experience of playing in a Manchester Derby was great," she continued.
"It was feisty with some strong tackles and good individual battles all over the pitch. It's one of those games you can never call beforehand.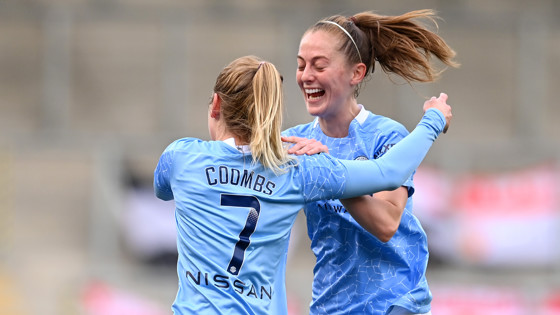 "It was a good watch and great to be part of, although there was disappointment for us at full-time.
"We'd had the upper hand in the first half, while they'd had it in the second half. We'd felt we were in control at half-time but we didn't put the game to bed.
"They made changes and came out a different team after the break. We've watched the game back and we won't be making the same mistakes.
"It's going to be another great game. It's massively important for us to go for the win – not just the point we need. I don't think we'd ever go into a game wanting a draw anyway.
"We're going for all three to seal our place at the top and in the next round so we hopefully, get a favourable draw."