Kerstin Casparij says she can't wait for Sunday's opening FA Women's Super League opener against Aston Villa.
The Dutch full-back joined City from FC Twente in the summer and has taken on the No.2 jersey vacated by Lucy Bronze.
Capped 15 times by her country, Casparij is now looking forward to helping City challenge for silverware.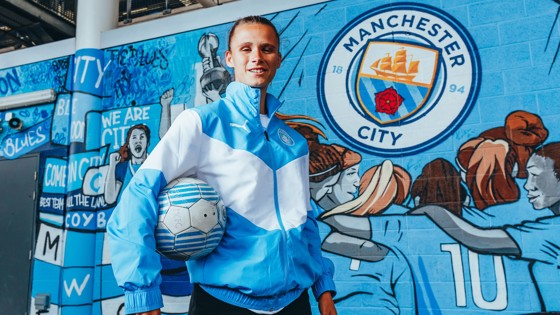 "I'm very excited," said Casparij ahead of the Villa clash.
"I love the big stadiums and crowds. I've said that over and over.
"I'm very excited and will be even more if we come away with three points. I can't wait."
Casparij feels she has quickly adapted to Manchester life and feels at home with her new team-mates.
"I think I've settled in quite nicely," she said.
"I've been here a while now and had a lot of sessions with the team.
"We're getting better every week and are excited to start the season."
And does she feel any pressure taking on Bronze's squad number?
"No not really, to be honest," she said.
"It's just a number and I try not to put on too much pressure filling in Lucy's shoes."
Casparij knows she is playing in a division who are riding on the crest of a wave.
With record FA WSL crowds likely this season, Casparij says the knock-on effect of England's EURO 2022 success will benefit everyone in the English top flight and beyond.
More than 20,000 tickets have already been sold for December's Manchester derby and big crowds are expected to attend for this weekend's opening fixtures.
"We were staying near to Manchester (during the tournament) and you could feel (the expectation) every day, especially when the Lionesses were playing.
"You could see women's football on the rise and with the tickets we've sold for the derby in December, it speaks volumes and I witnessed it close by so it's very exciting."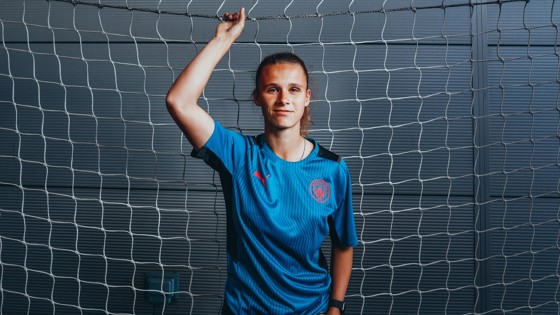 Casparij also says the squad will use the Champions League exit disappointment to positive effect in the coming weeks and months, adding: "I don't think our ambitions have changed much domestically. We still have the same goals in the league, winning domestic titles.
CITY+ | SIGN UP TO ACCESS EXCLUSIVE CONTENT
"Of course, it was a disappointment, I wouldn't lie about that, but we didn't have a lot of time to prepare and to come and train.
"It doesn't make it less disappointing, but it was a good lesson for us.
"We know what we have to work on, and we have full confidence we'll do well this season."