Keira Walsh believes England's Euro 2022 success could provide a lasting legacy at all levels of the footballing pyramid.
The midfielder and five of her City teammates – as well as the retiring Jill Scott and Ellen White – helped guide the Lionesses to an historic triumph over Germany in front of a record 87,000 supporters at Wembley in July.
It represented England's first major international honour in 66 years, becoming the UK's most viewed TV event of the year and drew in the largest TV audience for a women's match in UK history.
Ahead of what promises to be a thrilling Barclays Women's Super League campaign, Walsh insists the interest and enthusiasm from this summer's European Championships is already translating into the domestic game, from the top flight to grassroots level.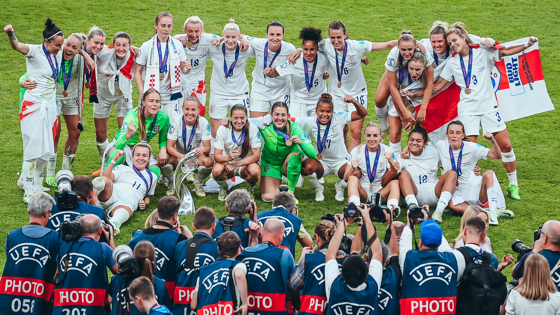 "I don't feel like the enormity of the achievement will ever sink in, to be honest," she reflected.
"The feeling of being a European champion is a pretty special one but the opportunity to change women's sport is massive now.
"I've had people come up to me on the street and had some messages. Local clubs have said they are seeing a change in the number of girls wanting to get involved.
"I think that's the big difference, we're not just looking for the next Kelly Smith, we want girls to have the opportunity in sport and just to enjoy it.
"Even if it's just to make new friends then that's great as well. We also want boys growing up respecting women's football and seeing us on the big stage will hopefully help that.
"Older women were messaging saying they had to quit because the pathways weren't there and now they are getting back into it.
"Getting people playing the sport was what we were setting out to achieve."
City's WSL curtain-raiser sees us pit our wits against Arsenal – one of our title rivals - at the Academy Stadium on Sunday 11 September.
It's a difficult start for Gareth Taylor's side, with the Gunners also boasting three members of England's Euro 2022 squad among their ranks, including captain Leah Williamson and tournament top scorer, Beth Mead.
And while Walsh admits every member of the Lionesses squad will always share an unforgettable bond thanks to their success this summer, she insists that they won't be distracted by the task in hand come game day.
She said: "We're very excited [about the increased interest in women's football]. This is what we wanted.
"We wanted to bring the people who have supported us at international level into the WSL grounds and that looks promising around the country at the moment.
"Our job now is to keep fans in the stadiums, playing exciting football that they want to come and watch week in week out."

"When I see Leah [Williamson] and Beth [Mead], I am going to smile because of what we achieved together.
"But as soon as the game kicks off, it's about City and for them it will be about Arsenal, so we won't be friends once we cross the white line."