Manchester City are delighted to announce Karima Benameur Taieb has put pen to paper on a two-year contract extension.
The 31-year-old joined City in September 2019 – the week of the historic first professional women's Manchester Derby – on a deal until the end of the season.
The experienced shot-stopper, who will now be known as Benameur Taieb after adopting her mother's surname, made three appearances in sky blue, keeping the visitors at bay in a 5-0 Continental Cup victory over Leicester City, a 10-0 FA Women's Cup win against Ipswich Town and in the thrilling 3-3 Barclays FA Women's Super League draw with Chelsea, in which she was introduced as a late substitute.
Following a positive debut campaign, the goalkeeper, who will sport Taieb on the back of her shirt, has agreed to extend her stay in Manchester to 2022 and expressed her delight.
CITY+ | Exclusive, premium City content
"I am really happy to extend my contract with City," she smiled.
"In the Club, what I like is that everyone works hard and gives the very best of themselves but at the same time, the atmosphere is very relaxed - everybody works hard individually and is looking at giving their very best within a very friendly and good working environment.
"This gives us the drive to be better and to want to do better.
"Regarding the facilities, City really provide everything we need for us to work in the best possible circumstances. I am benefiting from all of this and this is a wonderful experience for me. I am really happy.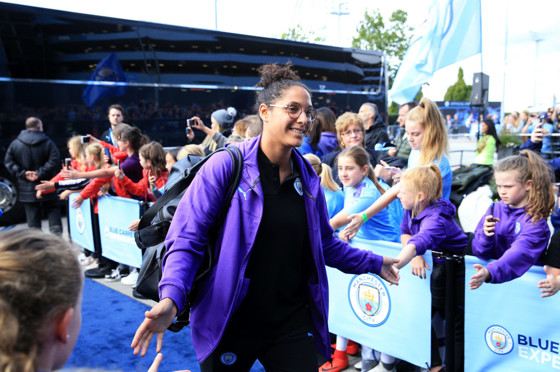 "I knew that this past year for me would be a year to adapt because there are a lot of things that I didn't experience before. As a result, I have tried to improve and develop in other areas such as fitness, technique and style of play as well because City's style is quite special. 
"I learned a lot of things. It has been a great season, a great year - even if it ended a bit too early, unfortunately.
"Personally, next season, I hope to have more gametime and to win titles next season because this year we didn't get the chance to do that, although we had everything to be able to achieve it."
Born in Bedarieux, Benameur Taieb had previously spent the entirety of her career in her native France, figuring for the likes of AS Saint-Etienne, Toulouse and Paris Saint-Germain amongst others.
Cityzens Giving For Recovery: Find out more
On the international scene, she represented her homeland at various youth levels and also boasts five caps for their senior set-up.
Embarking on a completely new chapter with her move to Manchester with a new city, language and culture, the shot-stopper admitted it took some time to adapt but added she feels at home, despite the change in weather!
"I originally come from the south of France where there is plenty of sun so this is a completely different way of life of what I was used to!" she admitted. "But I did adapt.
"In Manchester, people are friendly, the city is attractive, there are plenty of things to do and look at, plenty of nice coffee shops... I love coffee so I really enjoy it! I adapted and settled quite well.
"I am very happy to be able to continue the adventure with City."
Reflecting on the news, Head of Women's Football Gavin Makel commented: "Having joined the club last summer, Karima has proven herself to be a top-class goalkeeper and an outstanding team player, whilst she has fitted seamlessly into the culture of the group.
"I'm delighted that Karima has extended her stay with us for the foreseeable future."