City goalkeeper Karen Bardsley believes the knockout element of Sunday's FA Cup Manchester Derby adds an extra level of excitement to the match.
Gareth Taylor's side travel to the Leigh Sports Village on Sunday 27 February, with kick-off in our FA Cup Fifth Round clash scheduled for 12:30 (UK).
Looking ahead to the game, Bardsley can't wait for the latest showdown with our cross-city rivals to get under way.
Indeed, the City stopper believes the added 'winner takes all' component of the match brings with it an added weight of significance.
"(The FA Cup is) a whole new level! It adds even more suspense and tension, and a bigger significance to moments in the game. It's a cup tie and anything can happen," she said.
"It's about whoever shows up on the day and handles the occasion best; whoever is the most cohesive team on the day comes out on top.
"Obviously, we had a big win and big performance in the league game, we put together a really solid second half and Caz Weir scored an amazing goal and we'll hope to take that into the away game.
"It's a great opportunity to showcase women's football, particularly here in Manchester.
"I'm hoping for another great atmosphere and some exciting stuff on the pitch."
Sunday's clash between City and United represents our tenth meeting as a professional outfit, with Gareth Taylor's side currently holding the bragging rights after our 1-0 WSL win earlier this month.
And while Bardsley is hoping for another City victory on Sunday, she also welcomes the rivalry as an opportunity to showcase Women's football to a wider audience.
Indeed, the goalkeeper is delighted by the impact each Derby match is having, especially with regards to younger generations.
"It's huge. It's created a platform – not just for eyes on the game and more exposure – but also in terms of setting an example for young girls to know what they can achieve," she explained.
"We're chipping away at changing perceptions of what people think of when they think of a 'Manchester Derby' – now they can associate it with the women's team.
"It's more than 90 minutes between two teams – there's a build-up, the post-match reaction for weeks after, the banter you get in social groups or at work…
"It's a little bit different to the men's game. The Derby we played at the Etihad was like a celebration of football. There were families sat together – some of whom supported City and some who supported United.
"It was just people who were allowed to support who they wanted coming together to watch a big game."
It's been a difficult campaign for Bardsley so far, who is continuing her recovery from injury after being forced to pull out of Great Britain's Olympics Squad in June.
However, the England international believes the patience she's shown in her rehabilitation will pay off in the long run, especially with so much to play for between now and the summer.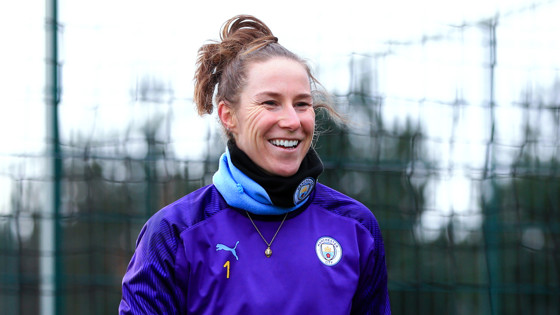 She said: "I feel like I've turned a little corner. I feel a bit more positive about the way things are going, I'm getting my strength and co-ordination back.
"It's been slow going but I feel like I'll be in a better place for taking my time in rehab and that it will serve me well.
"I feel like things have been going really well. There seems to be a lot of excitement about getting games rolling through, scoring some goals, trying to close the gap in the league table and take steps closer to silverware.
"It's been a lot of fun being around the girls again – I've been getting back on the pitch here and there and it's nice to get reintegrated into the team a little bit more.
"With all of the opportunities coming up – not just for City but also for England (there are good chances to get highly competitive minutes and good experience before the Euros) – so it's really exciting."