Janine Beckie says City must take advantage of a unique opportunity to create history by lifting two FA Cups this season.
The new term bears an unusual situation in which two editions of the competition will unfold, as the 2019/20 tournament resumes and 2020/21 campaign begins.
Having lifted the trophy in May 2019, City are the current holders, looking to retain the coveted silverware.
Victory over Leicester City in the quarter-finals on Sunday (27 September, 2pm UK) would book a home tie in the semi-finals next week, with either Tottenham Hotspur or Arsenal awaiting.
Although disappointed with the circumstances for last season's enforced conclusion, Beckie says she is grateful for the opportunity to continue the 2019/20 FA Cup journey and ever optimistic, has encouraged her newly-strengthened squad to 'rewrite history.'
"With the team we've put together, it's hard to predict the success we'll have but the bottom line is: success is winning trophies," she asserted.
"There are five trophies on the line this season – so much more to play for. I can see the potential for us to take all the trophies – it wouldn't be right to single out one or two with the squad we have this year.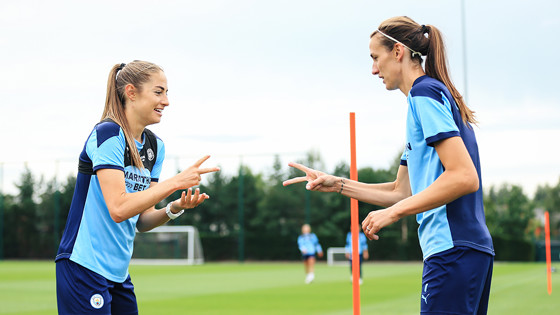 "This group is so motivated and the new players have come in. We all want to be winning trophies and it's exciting – 95% of the games this season are big games and every player wants to play in them.
"It will be incredibly difficult but we want to be the team that continues to rewrite the history of Manchester City and women's football in England.
"I don't think it's outrageous to say we expect to win the league, both FA Cups and the Continental Cup – and the Champions League is really important for us.
"It's the only trophy the Club is yet to see. We've fallen really short in the last two seasons and we expect more from ourselves.
"We have the squad to do it but we have to take things one game at a time and that starts on Sunday.
"I'm really glad we're able to finish the FA Cup because we have an opportunity which will hopefully, never happen again – the chance to win two FA Cups in one year.
"That's really special and we definitely have a good chance. We've put ourselves in a good position and that would solidify the work we put in last year.
"It was so strange to see how successful we were but realise we came away with no trophies. It was really disappointing.
"Winning the FA Cup would give us even more motivation (not that I think we need any more!) for the rest of the season – we'd already have one trophy in our pocket to take with us on the chase for the other ones."
CITY+ | SIGN UP TO ACCESS EXCLUSIVE CONTENT
Facing Championship opposition and with a home tie against either Tottenham Hotspur or Arsenal awaiting the winners in the semi-finals, it could be claimed the draw has been kind to City.
Although grateful for the opportunity to play on home soil (with fortune having pitted us away in the majority of recent cup draws), Beckie has warned against any complacency ahead of this weekend's game.
"Luck is a funny thing," she stated. "In the past, draws have not been in our favour but we've coped and dealt well.
"This team can be successful home or away but you always want home games – the luxury of sleeping in your own bed the night before a game and preparing at home is so much different.
"It's a different dynamic this season because we don't have fans but there is still an advantage, especially in a cup game.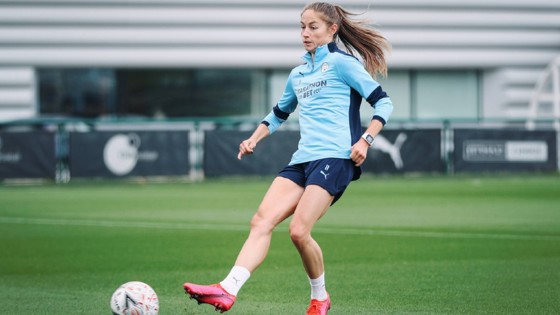 "Leicester will give us a challenge though. We have to go to their place, which I haven't experienced, and it can be the teams you don't normally play (like teams in the second division) that sometimes give you more issues than teams you play all the time because of the unfamiliarity.
"We do our homework and prepare but at the end of the day, it's two teams on a pitch and it can go either way.
"If we don't take care of business on Sunday, there is no Thursday so that's the priority.
"If we play our style and commit to the things Gaz is asking of us, it's not egotistical to say the game should go in our favour – there's an expectation that we should go down there and put in a winning performance and then come out ready for Thursday, which will be a massive game either way.
"We're looking forward to getting back out on the pitch and competing for a semi-final."