Gareth Taylor has confirmed Keira Walsh is back in contention for Thursday night's Continental Cup semi-final visit of Tottenham Hotspur.
The midfielder missed last weekend's FA Cup triumph over Nottingham Forest, having been rested as a precaution.
Speaking to the media ahead of the visit of Spurs, Taylor explained Walsh is ready to return, while captain Steph Houghton and Ellen White will face late fitness tests, having also missed Saturday's win at Forest.
Meanwhile, while new recruit Julie Blakstad is awaiting a work permit and Hayley Raso and Alanna Kennedy are pushing to feature after returning from international duty with Australia.
WOMEN'S TEAM HOME TICKETS | BUY NOW
"We've got a couple of niggles," Taylor said. "Obviously, we didn't have Steph and Ellen for the weekend. We will take another 24 hours to see if we can get them available.
"They're just slight ongoing issues – nothing too major with Ellen. She has trained a hell of a lot. She is always available for games, she's quite a robust player. It is just a slight niggle in the knee.
"We took a decision to not take them to Nottingham to give themselves the best chance of recovering for these two games.
"We've got to wait 24 hours. Hopefully, they are available. There is a lot of football before the next international camp. There are a lot of demands and a lack of opportunity to give them rest. 
"[Keira was] similar – an ongoing build-up we decided to manage. We had the luxury to do that and we managed to bring in players who didn't alter the level of performance. Keira is back training and available tomorrow. 
"We're waiting on Julie Blakstad's work permit coming through. That's touch-and-go.
"The two Australians are back from India. I'm yet to see Alanna. Hayley was back 24 hours earlier so I managed to catch up with her yesterday. We'll see how they check in.
"We did a controlled session with her [Hayley] yesterday and the same again with Alanna today.
"It's good to have them back albeit the fact their trip was shorter than expected. We're pleased they are back. It gives us good options. We need to see how they are physically and mentally. 
"They had a pre camp in Dubai before they moved to India. I am certain there will be some disappointment they didn't go further in the Asia Cup. That's normal. As long as they reset…
"The pleasing thing for me is that I had regular contact with them and as soon as they came out of the competition, they were both dying to get back for these games. That's all you want to hear as a coach.
"We are fortunate that we get that [break at Christmas]. Unfortunately for us, it is about how we get them prepared again.
"We have managed to give them a break but it is always important to check what they have done. Alanna played the last game for Australia, Hayley only played the last five minutes.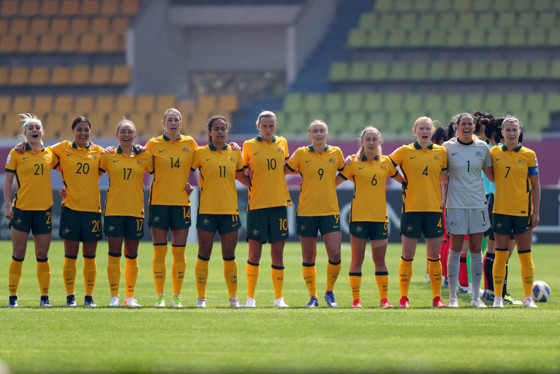 "We will manage them correctly in the next 24 hours. We need to see what the international break looks like for them to monitor and see what they do. There is a big demand on them at Club and international level.
"It will be good to have those players back. Ellie [Roebuck] coming back at the weekend was a big plus as well. We didn't see any issues with her – we've managed her quite well over the last couple of days."
"Again, we will wait to see tomorrow and make a decision on the team. We have good options now, so we are looking forward to that. We're moving in the right direction."
Taylor also provided updates on long-term absentees Chloe Kelly, Esme Morgan and Karen Bardsley, adding they are progressing well.
"Chloe is due to step back on the pitch and join parts of our session," he continued. "She is going to need a substantial amount of training hours before being considered.
"Her attitude has been spot on – the same as Esme and KB. They are working incredibly hard.
"Esme will be a bit longer in terms of returning to the pitch. It's the same with KB – she is back on the pitch in some moments but with the nature of the injury, we need to make sure she is right.
"They are all moving in right direction but all require some time due to the nature of their injuries."
With the chance to book our place in the Continental Cup Final, Taylor did not have to highlight the importance of Thursday night's encounter and says the squad cannot wait for the tie, especially with the game being played on home soil at the Academy Stadium.
Though Spurs emerged victorious from the league meeting back in September, Taylor asserts the squad are in a very different place now and eager to ride the crest of the wave, having built excellent momentum.
"We feel like it is a privilege for us to be in a semi-final," he stated. "We are looking forward to it.
"We have played Spurs already. We lost that game but should have been out of sight by half time. We have learned from that but we are a different proposition now if you look at who was missing.
"They are difficult to break down. They make it really difficult. They try and hit you on counters. We need to take our opportunities. Nothing changes when we play, it is about how efficient we are in both boxes. Recently, we have been good in those areas and it's about making sure we are tomorrow night.
"People always have a perception of what's an easy game or more difficult. For me, there are no easy games.
"In the semi-finals, it is about producing the right performance in the right moment. We are not thinking beyond that. We have got a big game at Chelsea on Sunday. We have 24 hours less to recover. For some reason, the FA put the game on different days. We'll manage that and do our best to get the Final.
"Things are getting back to normality now. We are still a couple of players short. I think the way everyone has handled the really heavy start to the New Year has been brilliant. Players and staff have been really professional to put us in the position we are now.
"We want to get to a final. We are quietly confident we are heading in the right direction."
Don't miss your chance to cheer City on to the Continental Cup Final, as Gareth Taylor's side face Tottenham Hotspur at the Academy Stadium on Thursday 3 February (19:00).
Tickets for the crucial game are now on sale - with kids tickets available from £1!