Gareth Taylor highlighted the importance of City's squad depth following our late 4-3 friendly win over Everton on Saturday afternoon.
In our final pre-season friendly of the summer, following 3-2 and 1-0 wins over Bristol City and Liverpool respectively, Mary Fowler scored her second of the game to see City win in the final minutes at Walton Hall Park.
The energetic fixture saw 20 first-team players gain valuable minutes in a competitive setting before we begin our Barclays Women's Super League campaign on Sunday 1 October with a trip to West Ham United.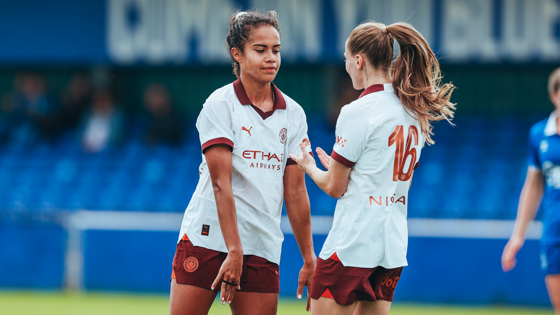 And Taylor was thrilled with how strong each individual looked and how, in turn, their attributes will be key regardless of how many minutes they play.
"We need it because if we want to make challenges in any of the competitions it's so important that we have squad depth and we have competition," said Taylor when asked how important and strong City's squad depth is.
"We have to have a bench that's going to make an impact and I think we have that now, regardless of what team I pick, the bench is going to be strong.
"The importance of substitutes is really high and the quality we have is really good.
"Like I say we keep working on things, we break now unfortunately for the international break and then start cracking on with the season but it's exciting and there is a lot of things in pre-season that have been really positive so lots to be pleased about."
City showcased our relentless mentality to win every game during the success over Everton.
Some spectacular goals were also scored, including a sublime rocket by Ruby Mace from outside the box which was arguably the strike of the game.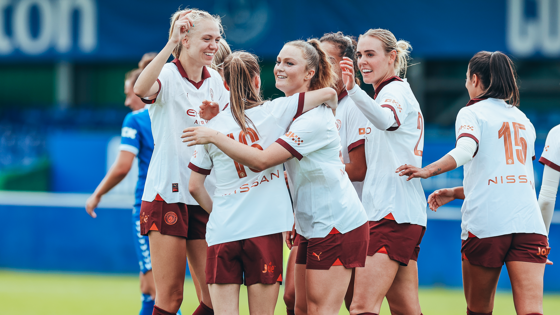 And Taylor is excited by the young talent at his disposal after their positive pre-season development.
"I thought the last 10/15 minutes against Everton, when the game was there for the taking, we were key clinical. We made some really good decisions, Jess [Park] pulling back for Mary [Fowler] and Mary is so dangerous in those areas, she's got such quality to her finish," said Taylor.
"And of course Ruby's [Mace] goal was a spectacular goal, the build-up play from it, the way Jill [Roord] went past, got into the box and then picked out that pass was quality.
"It got me off my seat that one! Me and Sean [Goater] were off celebrating that one which is really good.
"A great goal and some good stuff, like I say you're always looking for a perfect performance all the time which doesn't exist but I think it's good that we are doing a lot of really good things."