Gareth Taylor says our recent run of form has helped to maintain belief in a Barclays Women's Super League title push.
City have got the better of both West Ham and Leicester in the league and Continental Cup since returning from the winter break.
It means our current run of form stands at 11 wins in our past 12 matches, while we haven't tasted defeat in any competition since September.
Our first home match of the campaign sees Aston Villa travel to the Academy Stadium on Saturday 21 January and, while there is a long way to go, talk of a WSL title charge aren't out of the question.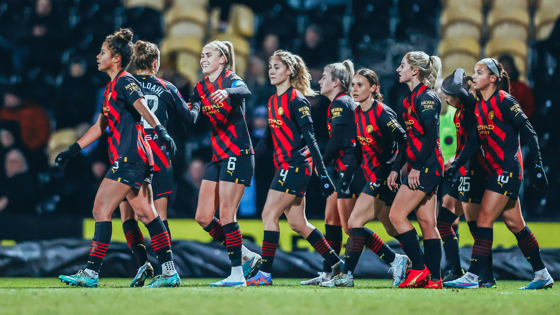 "We've always spoken about that belief within the team and even if you're far away from your objective it can feel like a big difference but having the belief to do it comes from winning games," the boss explained in his pre-match press conference.
"That's really important and the margins are so tight in the WSL, the difference between winning and drawing a game can be crucial.
"That draw last week helped us gain a couple of points and gave us momentum, we just have to concentrate on the next game.
"We'll try our best tomorrow. If we win the game [against Aston Villa], fantastic, but if not, we know we're not out of it.
"There'll be some more movement with teams going up against each other in the games coming up as well."
Aston Villa are one of only two sides to get the better of City in the WSL this season, having claimed a 4-3 victory on the opening day of the season.
Defeats to Arsenal and Manchester United aside, Carla Ward's team are unbeaten since October, and began 2023 with a hard-fought win over Tottenham in the WSL.
Taylor is relishing the challenge that they'll present: "They've changed a lot. They've added to their player roster - in January too, they've signed some experience and good quality.
"No surprises that they've done okay.
"A good opponent for us to face tomorrow. Looking forward to the home tie for us and to use it as an advantage."