City have received a boost ahead of Wednesday's Champions League clash against Fiorentina with the news Janine Beckie is back in contention.
The Canada star missed Sunday's 4-0 win over Birmingham with fatigue and a slight calf strain, following the SheBelieves Cup, but the boss revealed she will be available for the midweek Round of 16 first leg clash.
Taylor also explained he has no new injury concerns with the squad ready and raring to go.
"On the back of Sunday, the major difference is that Janine should come back into the fold," he explained.
CITY+ | SIGN UP TO ACCESS EXCLUSIVE CONTENT
"She's been able to train for the last couple of days.
"That's it really. There's nothing new to report – just that Janine is coming back in.
"It was great [to have Sam Mewis back on Sunday]. It was difficult for the other girls (Janine, Rose Lavelle and Abby Dahlkemper) – they didn't arrive back with a lot of time. We have to look at the physical side of things.
"Sam was able to stay behind after the injury she sustained in her previous camp and we had to make sure she was managed the right way.
"It was good for her to get 60 minutes under her belt, scoring a couple of goals.
"It's exciting. The players are really up for it. We always enjoy periods with games in quick succession.
"To be successful, you want healthy numbers and the squad is looking good.
"It's about managing players in the right way. We have a big game on Wednesday then another one on Sunday, then the return fixture against Fiorentina.
"We have to look at the bigger picture."
City reached the semi-finals of the competition in 2017 and 2018 but fell at the early stages in the last two European campaigns.
Asked whether he feels his squad have what it takes to lift the trophy, dethroning five-time winners Olympique Lyonnais, Taylor replied with optimism.
"I believe we are good enough to win it," he stated. "Achieving it is the hard part!
"In cup competitions, you don't get second chances.
"It's a different format, playing home and away. Playing away, you try and come back with a win.
"Most Champions League games are never really done after the first game. You have to understand that even if you're in a good position, you still have to get the job done.
"You've seen over the years at Lyon, they've been really consistent and dominant. That's going to be difficult to change.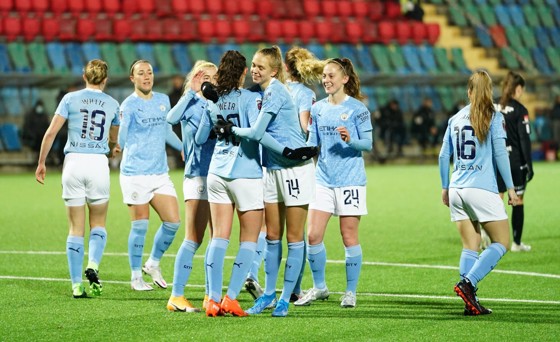 "There are a lot of really good teams at this stage – the last 16.
"It's a good opportunity for us to progress. We know they're a difficult team to play against.
"It's not over after the first leg. We won't look further than that – you can't in this competition. You can make the mistake of not performing on the day.
"We have to focus on this game and then the second game and make sure we progress, giving ourselves the best chance.
"It has to be a game-by-game situation. It will be a tough game but we're in good confidence and if we stick to the processes, we can be successful.
"There's always a pressure. It's how you manage it. Make sure you focus on what you can control.
"We have to make sure we play our game, impose ourselves on the opposition and hope to progress."