Gareth Taylor says there is no shying away from the importance of Sunday's FA Women's Cup Final – on a personal or collective level.
City have the chance to defend the trophy with an eagerly-anticipated encounter against Everton at Wembley on 1 November (2:30pm UK) with the holders heading into the clash as favourites.
Marking the conclusion of the 2019/20 tournament, the game provides an unusual opportunity to lift a trophy a matter of weeks into the new season – and very early on in Taylor's managerial career at the helm.
Having missed out on the Community Shield and endured a mixed campaign of league results, Taylor admits City know what is expected, asserting silverware would cement belief and prove just reward for his side's efforts.
CITY+ | SIGN UP TO ACCESS EXCLUSIVE CONTENT
The 47-year-old also expressed the significance of the game on a personal level.
"It would mean a lot to win the trophy," he declared.
"In my coaching career, it would be one of the biggest things I've done so it's really important to me.
"Hopefully, there will be other opportunities as well but I'm not playing down at all how important it would be to me.
"It would certainly reinforce the good work we're putting in and show some reward for that.
"If not, it's still a good achievement to get there. We're not thinking too much outside of that – of course, there are other objectives outside the game but it's one we're looking forward to and we're really eager to do well."
The start of the week leading up to the game brought an unexpected turn of events with England's international camp cancelled due to a positive Coronavirus test amongst the backroom staff.
The news meant the players were forced to head back to their respective Clubs and with 11 City representatives in the Lionesses squad, Taylor was able to welcome back the bulk of his squad earlier than anticipated.
The City boss admits their early return aids preparation for Sunday's crunch clash, and that spirits are high despite a recent dip in form.
"The mood in the camp is good," he said.
"We've had a situation where the England players returned early when the Lionesses camp was cancelled and that's allowed us to have an extra day or two to improve our preparation.
"We never have any demands on England with players. When they are away from us, they need to keep fit – under-training can be worse than over-training.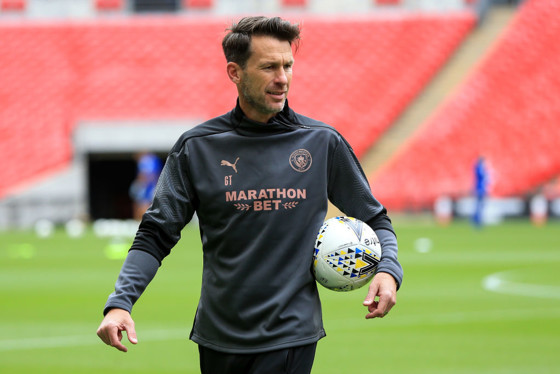 "Having the players back earlier has helped us to improve our squad size for training.
"The squad is in pretty good shape, and we'll have to wait and see how Caroline Weir comes back from Scotland duty.
"Everyone's looking good. Everyone wants to be involved on Sunday and everyone will be involved – whether they start the game, are on the bench or even watching on in the stand.
"Everyone has a role to play – it's about supporting the team, making sure the team comes first and then going there and competing to bring home a trophy.
"We have a squad of really good players, who want to be part of it, making a difference out there – and that's great for me, as a manager.
"We have some good selection choices to make in lots of positions and that's what you want."
Sunday's Final also throws up some intriguing sub-plots with a host of familiar faces ready to lock horns against their former clubs in both shades of blue.
Perhaps most notably, the pre-match discussion is focusing on the potential influences of Chloe Kelly and Izzy Christiansen, who have both impressed for their new sides already this campaign.
Taylor agreed there may be some extra fire but asserted he is not targeting one specific Toffees threat – but all of them.
"It will be two good teams going head-to-head," Taylor added.
"I can understand why we're favourites – when it comes to Cup Finals, there's often a favourite and an underdog – but it's a one-off game and we've worked hard to get there.
SUBSCRIBE TO THE OFFICIAL MAN CITY PODCAST
"We made good steps with victories in the quarter-final and semi-final. With that momentum, it would have been great to go into the game the week after but we've had to wait – just like Everton.
"They have made a good start to the season. We've played them a couple of times in pre-season and the Continental Cup so we're aware of each other.
"There are some pre-existing relations there – players who are here now, having played for Everton, and vice versa.
"If you look across the FA Women's Super League, clusters of players come together and there always seem to be links with players, who have moved around quite a bit in the league.
"I think it will be a fairly level game. Hopefully, we'll be successful."