City have received a welcome boost ahead of Saturday's Continental Cup Final with the news Laura Coombs is back in contention.
The midfielder missed the two Manchester Derby victories with a knee injury but is set to return against her former Club in this weekend's showpiece clash.
Speaking to the media ahead of the game, Gareth Taylor revealed the 31-year-old is fit to return, while Vicky Losada is a doubt, having picked up a knock in last Sunday's Women's FA Cup win over Manchester United.
There was more cause for celebration with Chloe Kelly also nearing a comeback, following her ACL injury, although the meeting with Chelsea will come too soon for last season's Etihad Player of the Year.
Asked of the latest team news, Taylor replied: "Nothing too dissimilar to our previous game.
"We are just waiting on Vicky Losada, who took a knock against United.
"Laura Coombs is back, Chloe Kelly is stepping up her training volume – it's probably too soon but she is looking very close.
"Apart from that, everyone is okay."
With captain Steph Houghton unavailable, having undergone Achilles surgery, Taylor has called upon his squad to step into her role as leaders.
"You can only choose one captain and we need other cultural architects within the team and that comes in many forms," he added.
"You can be a leader who is a shouter and organiser and you have players who lead by performance. There are many ways to do it.
"Missing Steph is a blow in terms of leadership on the pitch but she helps massively off it an during games.
"We have got more than enough leadership on the pitch."
Sunday's Derby win saw substitutes Khadija 'Bunny' Shaw and Julie Blakstad make instant impacts, coming off the bench to combine for our fourth goal of the afternoon.
Naturally delighted with their contributions, Taylor said the whole squad are pushing to feature, showcasing what they each are capable of.
"Everyone is excited about it," he continued. "Everyone is looking forward to it.
"The Cup Final is a great achievement. Everyone wants to be there and play their part. Everyone is training hard, working hard and whatever capacity they are in in the squad is massive for us. 
"Bunny offers something a little bit different. When she is playing at a high tempo with and without the ball, we see the player who won the top scorer in the French league last season.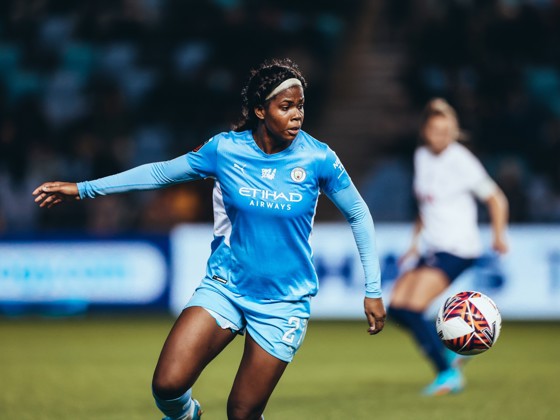 "We know what a threat she is and what an asset she is. We're trying to help her build those performances best as we can.
"it's the same with Julie. Julie provides something slightly different to something Lauren Hemp would and it's same with Janine [Beckie] and Hayley [Raso] on the right.
"We've got good players at the top end of the pitch and they are the ones we will need in the big moment."
After enduring a tough start to the season, Taylor's side have enjoyed an upturn in fortunes since the end of 2021 and are on a run of just one defeat in our last 12 games.
That loss however did come at the hands of Saturday's opponents Chelsea with the Londoners, who entered the Conti Cup at the quarter-final stage due to their Champions League involvement, having had the upper hand in recent encounters.
The Head Coach says victory in the Final would be just reward for his side's efforts this season and hopes that the lessons learned from previous meetings will prove the difference, as we chase a fourth success in the competition.
"It would mean a lot [to win the trophy]," he admitted. "We're really looking forward to it.
"It's a real testament to us and how we have stuck to our principles and worked our way out of a storm.
"The storm was massive injuries and we're still not out of the woods in that respect. We are still waiting on a few. It's a really good opportunity against a really good team but it's a game we're ready for.
"I would say it [the last meeting – a 1-0 league defeat] was more of a truer reflection of us in terms of being closer to our objective of winning the game.
"Previously we haven't been as close but there were many factors behind that. Having said that, we have played some really good football against them, particularly in the league game.
"We got going in the second half and dominated the game but couldn't score. We'll have an idea of what they want to do and they will have an idea of what we want to do.
"We have played each other a lot. It's nice to be in a Final. We want to go one step further and win a competition we have been successful in over the years.
"All the other stuff that has gone on previously was outside noise. We understood what was going on so it was normal service and a case of understanding that we knew we would be in a better place once we got players back and we are seeing that now.
"We have had to work hard to get here – no doubt about that. The rules are the rules. There is no divine right for us to pick up the trophy because we have had a tougher route than Chelsea.
"We know we have got to work tremendously hard, be really focused with and without the ball. We would have been the same if we had got to the Champions League group stages.
"The rules are the rules. There is no issue for us. We know we have got to go out and earn it. You only really remember Finals if you win them. It means nothing if you don't get there and win the trophy.
"I wouldn't necessarily say we 'need' to win – we want to. We are expected to be successful. Every competition we go in for, we want to win trophies.
"We know that is really hard. In the last seven seasons, we have won seven trophies. I came here to make a difference and win trophies. We want to do that every time we turn up."