Gareth Taylor says Jess Park has the makings of a great player, following her impressive display in Wednesday's Continental Cup triumph over Everton.
The 18-year-old produced a Player of the Match performance and found the net with a powerful finish in injury time, to seal the tie at the Academy Stadium.
Speaking after the game, Taylor expressed his delight with the starlet's display and says he's excited to see what she can achieve.
"She did great," he praised. "I've spoken about her before previously - she's a nightmare to play against!
GET EXCLUSIVE CITY CONTENT WITH A CITY+ SUBSCRIPTION
"She has energy and enthusiasm and although she needs to tidy up a little bit around the final third with her decision-making, everything is there for her to be a great player."
The victory saw City come from behind on home soil, after Danielle Turner had opened the scoring for Everton.
The hosts produced a spirited second half display to turn the game on its head and once again, Taylor hailed his side's determination.
With many viewing the clash as a 'warm-up' for the 2019 FA Cup Final, the Head Coach also agreed the encounter provided another useful insight into the Toffees, with the pair having already met in pre-season.
"I'm really pleased," he reflected. "Sometimes, you don't always get what you deserve but we did.
"The Conti Cup is a competition we want to be successful in. We've been successful in it previously and we've made a good start.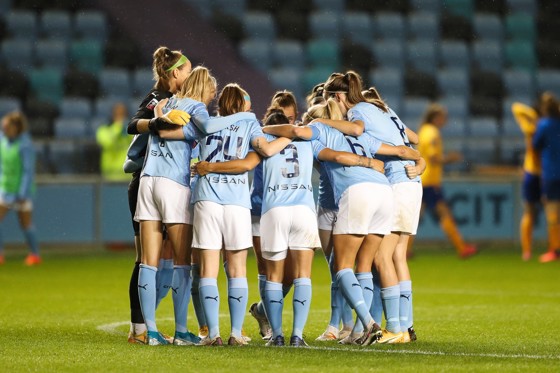 "The girls worked really hard and showed fighting spirit, after going a goal down which was completely against the run of play. We'd played so well up to that point.
"Looking at the positives and things that worked well, we switched some of the play and we did well in getting down the sides with Jess and Chloe causing problems.
"At half-time, we talked about sticking to our principles and how things would turn and it did. I'm really pleased and it was great for Rose Lavelle to get her first goal, which got us back into it.
"She did great. People were expecting her to hit the ground running - sometimes it happens, sometimes it takes longer...
"We've had to be patient. The introductions she's had so far helped her. She's a good player and one real positive she's got is that she has a really good team around her, trying to help her.
"The determination, fight and character is testament to the team. They're doing so well, taking on new ideas and playing really good football.
"There will be moments where we catch fire and moments we don't but result aside, I was really pleased with the performance.
"There are things we have learned. It will be a tight game at Wembley (in the FA Cup Final) – a big occasion with two decent teams.
"They're my thoughts and we'll look at what happens in the next game. We'll learn a lot reviewing their games."
The Head Coach also expressed his delight to see England goalkeeper Karen Bardsley return following her lengthy spell on the sidelines, and provided an update on Lucy Bronze, who was left out of the squad 'as a precaution' in the midst of a hectic fixture schedule.
"KB is amazing," he said. "I think she was a little nervous, which is only natural.
"She's such a good name in the game and she deserved that moment. Everyone is so pleased.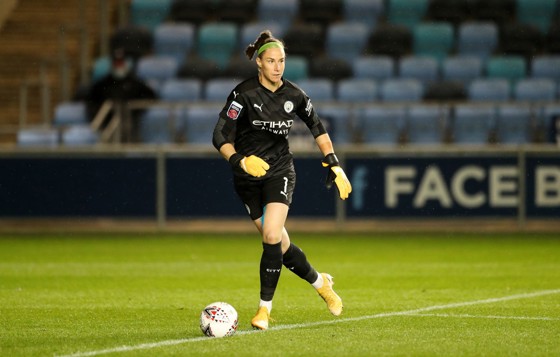 "She did some really good things in the game. It's not easy, having been out for several months with injury – and even longer since her last game.
"It's a high level to come into. The nerves were there for her but I thought she handled things really well.
"We have to manage Lucy in the right way. It's not that she's playing too many games - she probably needs to get match fit and play a little more.
CHECK OUT OUR 2020/21 WOMEN'S TRAINING RANGE
"At Leicester, there was an issue with the surface for a number of players. It's just about managing her but we wanted to freshen things up anyway.
"We have another game coming up this weekend so we're making sure we spread the load a little bit.
"We're playing Chelsea so it's natural people would think we want a bit of revenge from the Community Shield, but we'll look at them like we do with any opponent.
"We'll make sure we're prepared to play a good game. It's one we're really looking forward to - the first of two decent games, going into the international break."