Gareth Taylor says Ruby Mace could make her City debut in Wednesday night's Continental Cup group stage visit of Everton.
The teenager – a summer recruit from Arsenal who can play in either defence or midfield – is yet to feature for her new Club, despite being named on the bench in all seven games she has been eligible to play in.
A rule change to the 2021/22 Women's FA Cup tournament meant she could not compete for City in the quarter-final clash against Leicester City, having played last season for one of the teams who were still involved.
CITY+ | SUBSCRIBE TO ACCESS EXCLUSIVE CONTENT
While the experienced midfielder Jill Scott has been preferred as centre-back cover in recent games, Taylor revealed youngster Mace is edging closer to her first minutes, adding he has no new injury concerns ahead of the Toffees' visit.
The Head Coach also shared a positive update on winner Vicky Losada, who is progressing well in her rehab from an ankle injury with the international break arriving at a good time for the Champions League winner.
"Without revealing too much, Ruby is close – that's all I will say," he said.
"I think having Jill in that [centre-back] position was never a slight on the other available centre-backs. There's a reason she went in there – she had a level of experience and calmness, which helped the team a lot.
"We need to make sure the conditions are right for Ruby. She's a real good talent to work with and has improved so much even in this short period. When she gets her opportunity, she'll be ready.
"It will be a strong line-up. We haven't got a huge amount of options so here or there, we have to look at players carrying knocks and support that.
"It's another period where we can hopefully get those players closer. At the moment – apart from Vicky Losada – there doesn't seem to be any other player rehabbing who will be close to being back with us. That's the situation.
"One's better than none so we have to see the positives in that. Hopefully, the others won't be too far away."
Seven City players have been selected in England's squad for October's World Cup qualifiers, while Caroline Weir has been named in Scotland's team for their fixtures against Hungary and Sweden.
With players suffering knocks during the September international break, extending an already-lengthy injury list for City, Taylor admitted he and his backroom staff have been in contact with national teams to discuss each players' situation.
"If you look at the last couple of occasions where players have gone away, it is a concern especially with the low numbers we have," he conceded.
"I think it's always out of your control so you are kind of praying everyone comes back in fine condition. You can't guarantee that.
"We've probably only got two players who will remain with us out of the group of fit players that we have.
"You make your intentions known to the relevant coaches of the nations to say we're on the edge a bit – not that they'll have any concerns for us but player welfare is important and making sure we don't flog these players too much, making sure that we understand that some might be able to manage more than others.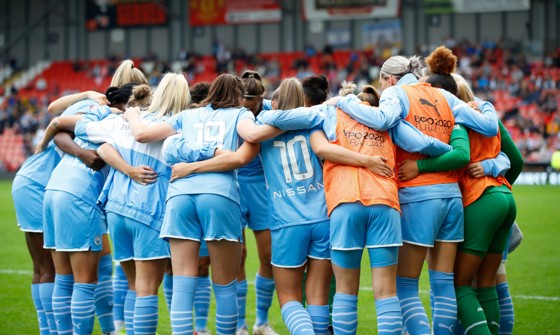 "We wouldn't send a player who wasn't fully match fit unless there's an occasion where they might potentially play the second game rather than first.
"There's a plan in place for these players and our medical department and sports science department will communicate with the relevant nations just to make sure they're aware of each player and what they have and haven't done.
"That helps massively and then we also have communication with the coaches as well. It's about working together and making sure we're on the same page to try and not have these situations.
"Our players at the moment have been through a lot and played a lot of minutes because we haven't been able to rotate as much just due to limited numbers.
"We just try to give as much information as we can to avoid unnecessary injuries."
Taylor also shared his support for forward Georgia Stanway, who revealed on Monday she had been subjected to social media abuse following her red card in the Manchester Derby.
"She's okay," he continued. "I had a conversation with her yesterday and she looked bright in training and had a smile back on her face.
"You don't want to see anyone in that situation but unfortunately that seems to be the nature of social media at the moment – it's really hard to find any good news on there and people are always quick to judge.
"I think it's difficult because it's more prevalent in young footballers these days. Everyone has a social media account and if you want to find bad news, it's not hard to find on there.
"There's a lot of negativity. People who judge need to walk in that person's shoes first before they actually make a remark.
"It's very difficult to get on top of because they seem to be silent warriors, sitting behind a phone or laptop who can just send messages as and when.
"I stepped away a while ago and felt it was taking up a lot of my time. I was spending a lot of time on there.
"I really struggled to find anything positive. When that happens, you think why put yourself in that space.
"I understand completely why players are on there – it's a really good way to interact with the public and supporters but when things don't go so well or there's a negative outcome, you get this onslaught of abuse and hate.
"I think we're always looking at ways we can help, we try to advise as best we can. The easy thing to say is: 'Don't use it' but is that the right way to approach it? Everybody can see the benefits of it but at the moment, we talk far too often about the downside of it which is similar to this case.
"It affects people and it will affect Georgia and naturally we need to rally round and help no matter who's involved in this.
"It's making sure we try to gain some perspective. We try and understand that we do value these players but we value them as people first and foremost and try to support them as best we can."
City kick-off our Conti Cup campaign against familiar foe in Everton in the Group B North opener, while Taylor's side will also contest another Manchester Derby against United and face FA WSL opposition in Leicester City, as well as Championship leaders Durham.
Having triumphed 4-0 against the Toffees in the 2021/22 FA Women's Super League season opener, Taylor hopes for a similarly dominant performance to start our League Cup campaign on a high, as we chase a fourth success in the competition, and sign of for international duty on a positive note.
"We had Everton in the competition last season, plus Man United and Liverpool," he recalled.
"It was three tough games. This is a fairly tough group again but it is what it is. We want to do well in this competition. We'll take it as seriously as we possibly can.
"It's just making sure we respect this trophy and we do. Last season, we went to the quarter-finals and were seconds from going through [against Chelsea].
"I think if we go through, we win that trophy. No disrespect to the other teams but it was us or Chelsea.
"We take it really seriously. We want to win trophies. We're out of one competition already so we need to be as competitive as we can be, marrying in players' loads and expectations to try and be as successful as we can."
Tickets are available for the Group B North clash, which will also be broadcast live on CITY+
A CITY+ subscription costs just £1.99 per month, granting access to full-match replays of all Men's, Women's, EDS and Academy fixtures, as well as original documentaries and selected live broadcasts.