Gareth Taylor says Lauren Hemp could feature in City's Champions League Round of 32 second leg against Göteborg.
The PFA Young Player of the Year did not travel to Sweden for the first leg triumph, with her minutes being carefully managed, as she continues her recovery from injury.
The 20-year-old returned to the starting XI in Sunday's 2-1 win over Arsenal, completing just over an hour of action.
CITY+ | SIGN UP TO WATCH EXCLUSIVE CONTENT
Asked in his pre-match press conference whether Hemp would be in contention for Champions League gametime, Taylor replied: "Potentially.
"We made a decision not to take her to Sweden. That was the right call and it gives us the option to use her [on Wednesday]. We'll see.
"[Having her back] is an injection of hope and it gives everyone a real boost.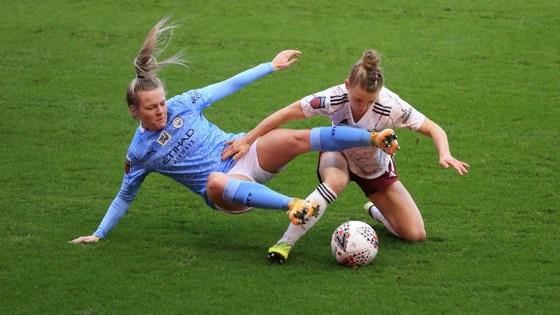 "She's been out for quite a while and it's like having a new player. She's highly regarded.
"She was great on Sunday – she stretched the backline against Arsenal – but we need to make sure she's managed in the right way.
"It's massive having her back."
As for the rest of the squad, Taylor added he has no new injury concerns.
"It's pretty much the same," he continued.
Official Manchester City Start Page
Get the Official Man City Start page for your Chrome browser. Add the extension to your browser, for the latest news and wallpapers in your desktop tab.
"Everyone's looking good – knocking on the door – and training was good over the last few days.
"This season, regardless of the starting XI, there's been no change in quality and it's great to have that."
City were forced to come from behind in the first leg, conceding a goal after just two minutes in Sweden.
While the visitors were able to turn the tie in our favour with two away goals. Taylor warned of complacency if his side are to secure progression.
"We need to respect them," he stated. "They're very fit and energetic.
"They were used to playing on that surface, which was new and different for us.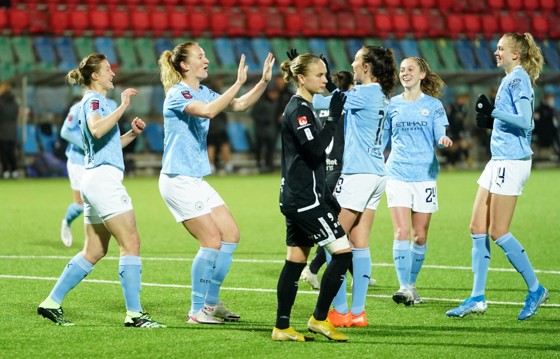 "That's what the Champions League is about – dealing with different surroundings, weather, time zones…
"The girls did really well. We controlled large parts of the game and we'll be looking to earn the right early on, in order to dictate the tempo we want.
"The Champions League is important. We're trying to go as far as we can in this competition.
"It's really tough. We drew a tough first tie (in Göteborg) and it's not over.
CHECK OUT OUR 2020/21 WOMEN'S TRAINING RANGE
"We have work to do. We need to be wary of our opponent. We're in a good position and we've done the hard work so it would be great to get to the Round of 16.
"We're fortunate to have experience in players who know what it takes to win (the Champions League).
"We've had a good week – we seem to be better when we have more games, as we're able to find our rhythm and momentum.
"It's about dealing on a game-by-game basis with the opposition in front of you; not getting too far ahead and giving yourself the best opportunity.
"It's something we want to achieve. We're looking forward to it."