In the heat of battle, you want your best friend alongside you, someone you trust implicitly and know inside and out.
Well this is a reality for City goalkeeper Ellie Roebuck every time she steps out beyond the white line alongside teammate Alex Greenwood.
The pair initially met on international duty and Greenwood, then Manchester United captain, took a teenage Roebuck under her wing to dispel any lingering nerves she might have had.
Their friendship blossomed from there and, after our left-back joined from Olympique Lyonnais in the summer, Roebuck is delighted to have her close friend with her now whether they are representing the Lionesses or City.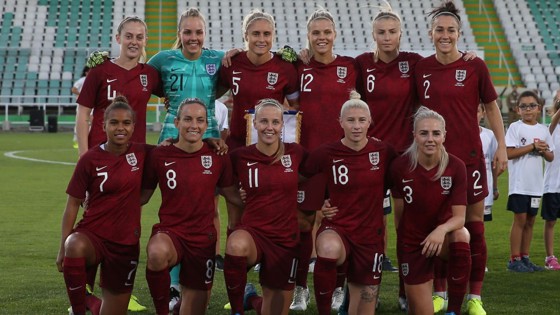 "We've been friends through England and to have her here day to day has been really nice," she reflected.
"It's like being back at school when you've got your mates around!
"Before she signed, we spent a lot of time together virtually in lockdown, doing sessions together, FaceTiming, trying to push each other through. 
"It's really refreshing… she's slotted in brilliantly and there's definitely more to come – I've seen it and I know what she's capable of."
Having a competitive edge is essential to any successful club's repertoire, and Roebuck believes these qualities are plain to see at City as well, particularly in Greenwood.
While they are firm friends off the pitch, our goalkeeper admitted there can sometimes be one or two arguments once they cross the white line.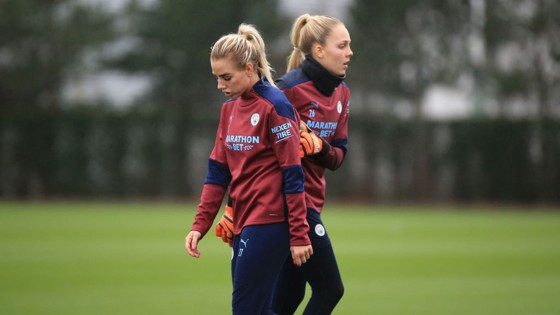 But Roebuck welcomes the demands that she and her best friend put on each other every week, and waved away any suggestions that an on-pitch disagreement might affect their friendship.
"We have an unwritten rule: what happens on the pitch stays on the pitch," she revealed.
"We'll have disagreements but we're in a really healthy position that we can tell each other when it's not good enough.
"I want to be demanded of, she wants to be demanded of and we both know it's necessary to make each other better.
"She's really raised the level of competition with the standards she sets – she drives the standard and pushes me, which makes me a better player."
Like all top level athletes, Greenwood has cemented her reputation as a fierce competitor across a hugely successful career so far, picking up silverware across the continent as well as a regular starting berth for England.
But Roebuck admitted that the full-back is totally different away from the the pitch, with the pair regularly catching up after training to indulge in a shared hobby.
She said: "We have a lot of things in common… We're both addicted to coffee and we have our Coffee Club.
"After training, we'll just look at each other and say: 'Coffee?'
"She really nice, down to earth. She thinks she's got good banter but I'm not so sure! 
"In many ways, we're the same person but in other ways, we're also completely different, which is probably why it works – and it works well."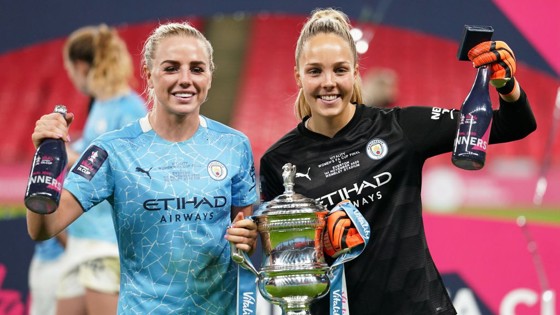 Surely the only thing that beats playing alongside your best mate is lifting silverware together?
This is something that Roebuck would certainly agree with, after she and Greenwood lifted the FA Cup together back in November's extra time victory over Everton at Wembley.
And while Greenwood could already boast a Champions League medal to her name, our goalkeeper revealed that they could not contain their excitement ahead of the game.
"We'd spoken about it all week: the fact we could win a trophy together," Roebuck reflected on their 3-1 FA Cup triumph.
"I was jealous she'd won the Champions League and I asked: 'any chance we can win one together?!'"
And at the final whistle, the celebrations are something Roebuck will never forget.
While the England goalkeeper has stressed that winning titles is hopefully just the beginning of both hers and City's success, she admitted that her first trophy won with Greenwood will always hold a special place.
"Winning trophies with your best mate, you can't beat it! Start as you mean to go on!
"It was a massive trophy to win. For me personally, it was the first Final that I'd played in that we won.
"I was buzzing. I could probably have retired at the time!"