City defender Demi Stokes says she and Leila Ouahabi's pursuit of the left-back spot has helped both players bring new qualities to their game.
Ouahabi joined the Club from Barcelona this summer, offering a wealth of experience to an already strong defensive unit at Gareth Taylor's disposal.
And her time in Spanish football has helped to influence Stokes' own footballing repertoire.
Nearing her 200th appearance for the Club, the England international believes she has also been able to pass on her knowledge of the Barclays Women's Super League to her new team-mate in the process.
Indeed, she says they are helping to bring the best out of each other in their pursuit of a regular starting berth, with competition for places part and parcel of top-level football.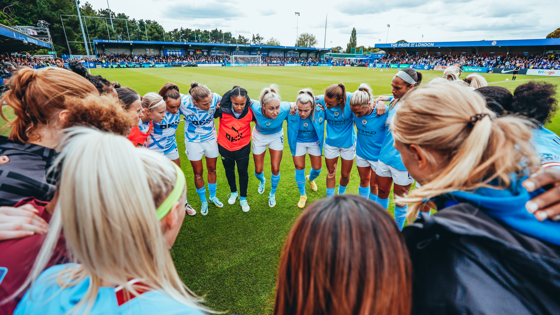 "Leila's come from a Spanish style of football, I can probably take that from her and when you're here, it's very specific what you do and how you play in your role," Stokes explained.
"I think it's just about learning bits off each other and helping each other.
"When you're a player coming overseas it can be really difficult with the language barrier and that kind of thing. It's all about making sure everyone is welcome and feels comfortable.
"I think it's accepting that you're always going to have competition and it's about your choice of what you think about that. When you get to the top there's always going to be competition.
"It's about pushing each other, helping each other and if I have a good game or Leila does, you want that because it elevates us individually and as a team.
"I think it's good that we've got competition in all areas."
City are back in WSL action this weekend, welcoming Leicester to the Academy Stadium for our first home match of the new campaign.
Gareth Taylor's side have our sights set on a first win of the season when we face the Foxes in a 14:00 (UK) kick-off.
And while Stokes has called for patience as our new-look side continues to learn and develop, she believes the City supporters can play a huge role in helping us claim victory on Sunday.
"We were frustrated that the game [against Arsenal] got cancelled but there's more opportunity now to get more fans there. We're really looking forward to it, it'll be a good one!
"It gives you that extra boost when you've got your fans there. It's good to get a home game because we do tend to play well at the Academy Stadium too.
"We're a new team really, we've got a lot of new players, we're still gelling and getting to know each other.
"We have to be realistic and know where we are with that as well. It's still early doors and we can still change things."
MANCHESTER CITY V LEICESTER
Tickets are still available for City's first home match of the Barclays Women's Super League season - which takes place this Sunday at 14:00 (UK). For more information on how to cheer Steph, Vicky and their team-mates on, click here.
The match will also be available to watch live on CITY+ and Recast, with Alistair Mann and former City goalkeeper Karen Bardsley guiding you through the action.
Available for just £2.99 per month across all our digital platforms, a CITY+ subscription provides supporters with unrivalled access to new and exclusive City content.
It will allow you to watch full-match replays of all Men's and Women's matches, selected broadcasts of Women's, Elite Development Squad and Academy matches and provides access to the full catalogue of City Studios documentaries.
The official Man City Recast channel offers fans flexible, pay-per-view live fixtures and on demand viewing options including match action from across the years, legend interviews, Best of Series, Man City Esports and City Studios documentaries.