Happy birthday, Chloe Kelly!
Our wing wonder turns 23 today, having also just passed her six-month anniversary at the Club.
One of the brightest young prospects in the game, Kelly joined City from Everton over the summer and has made a seamless transition from royal to sky blue, bagging six goals, including several Goal of the Season contenders.
Her delightful displays have earned deserved acclaim and teammate Aoife Mannion believes the youngster has the makings of a superstar.
CITY+ | SIGN UP TO ACCESS EXCLUSIVE CONTENT
Pacey and fleet-footed with an excellent eye for goal, the youngster has quickly become one of the first names on Gareth Taylor's teamsheet.
Also now starring for England's senior squad, the future is looking bright for Kelly and fellow Lioness Mannion has been impressed.
"You don't need to know too much about the game to watch and realise that whenever she gets the ball, it looks like something is going to happen," she hailed.
"She's young and she's energetic.
"You'd almost run the risk of not noticing her as a signing as much as you would notice Lucy Bronze and Alex Greenwood because they are big names – but in five or six years' time, that will be Chloe.
"That's the direction she's going in."
Despite her youth, Kelly is no stranger to adversity, having endured spells on the sidelines through injury – a fact Mannion says has made her a stronger player and more mature person.
"What's really interesting about her journey to the team is that she's been quite injured through her time at Everton," she reflected, "so to be able to have the year she did last year as a top performer is fantastic.
"I remember when we played against Everton… it felt like if something was going to come, it was going to come through her.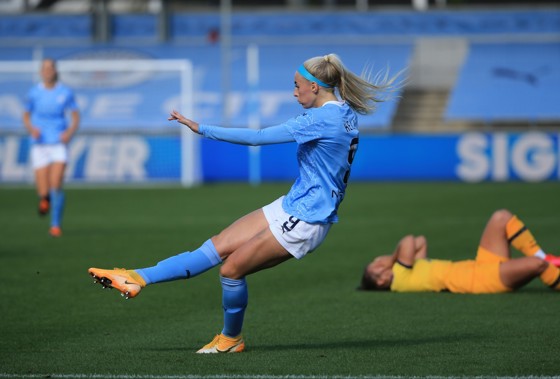 "To be able to do that and to have had some rubbish injuries on the way, I have this extra layer of respect for her.
"She's young, but I feel like she's wise beyond her years."
She may only be 23 but Kelly is already proving to be a role model for youngsters around her, including teenage teammate Jess Park.
Park herself has shone with a string of superb performances, including an influential cameo display in the Women's FA Cup Final, and says she has been inspired by Kelly.
"[I've been learning a lot from] Chloe Kelly," she smiled. "She's helped me massively.
"She plays in my position and she's been a great help on and off the field.
"She's a fantastic player and a brilliant person.
"Hopefully, I'll score one of her long-range goals soon!"