Chloe Kelly says it would be 'a dream come true' to step out at Wembley in an FA Women's Cup Final.
The 22-year-old is pushing to start against her former Club, as holders City prepare to face Everton in the 50th edition of the tournament.
A summer recruit from the Toffees, Kelly has been a star performer for her new side so far in 2020/21 and she says she would be realising a lifelong ambition if she were to make the starting XI come Sunday.
"It's something dreams are made of," she said. "I'm looking forward to it.
CITY+ | SIGN UP TO WATCH EXCLUSIVE CONTENT
"I watched FA Cup Finals as a kid and now I get the chance to feature in it and that just makes me more excited for the day.
"I got a taste in 2016 (as a substitute) but that just made me more hungry to get on the pitch next time.
"I'm even more excited now because I've got the opportunity of a spot in the team. I'll work my socks off to get a spot in the starting and enjoy the experience.
"It's a dream come true for any player. You have to enjoy the moment and not get caught too ahead – it's a game of football at the end of the day.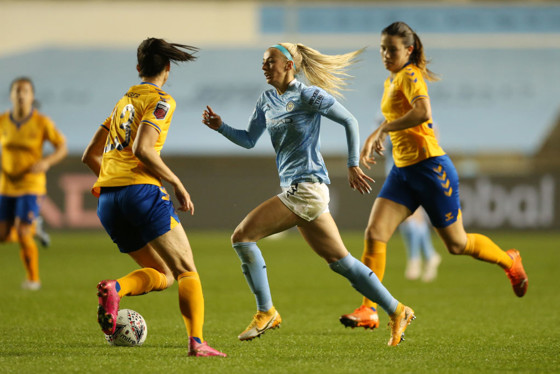 "Without fans, (the extra motivation) will have to come from within. It would be great to have fans there but safety is the most important thing and the fans will be behind us, supporting from home.
"It will be weird without fans at such a big stadium but we know what it means. We know what's up for grabs – it's an FA Cup Final. You don't need any more motivation.
"It's a Cup Final at Wembley and a chance to get some silverware. That's massive motivation.
"Of course, it's against my old club but it's an FA Cup Final so no matter who it's against, we always look to get the job done."
Having made the move from Merseyside to Manchester in the summer, Kelly still holds a soft spot for her former employers.
The forward asserts she is not surprised by the Toffees' success this season but insists she there will be no room for sentiment come Sunday.
"What Willie (Kirk) is doing there is great," she added. "The recruitment is great and credit to the players and manager – but we want to find a way to break them down.
"I'm not surprised at all at what they've achieved because of what has been put in place over the last few years.
CHECK OUT OUR 2020/21 WOMEN'S TRAINING RANGE
"It was hard to leave Everton – I was enjoying my football but when the opportunity to come to City (a huge Club) and play Champions League football came up, I couldn't turn it down.
"It was a huge opportunity for me and I was glad I made that decision.
"I have a great relationship with the players there. I haven't really spoken too much this week (to my former teammates).
"I've kept communication to a minimum, looking to focus on the game and get in that frame of mind. Maybe those conversations will happen after the game!
"It's great to see what they're doing but my focus now is on Manchester City and what I can do at this Club."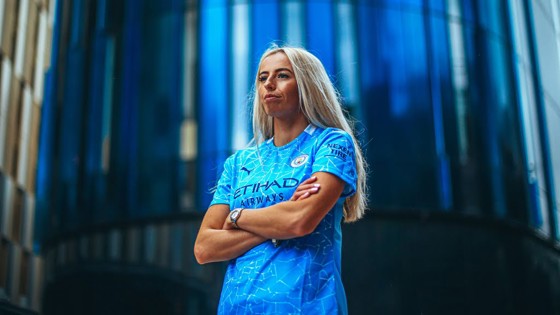 Kelly made her competitive debut for City at Wembley in the Community Shield defeat to Chelsea.
The youngster came agonisingly close to marking her first appearance with her first goal but hit the woodwork in the first half.
Two months later, she says she has unfinished business at the national stadium!
"The Community Shield was my competitive debut for the Club and a big occasion for me," she reflected.
"Hitting the post and not getting the result was frustrating but this time round, we're going there to get a result.
"All of the pitches I play on, I want to show what I'm capable of. It doesn't matter whether that's Wembley or anywhere – I'm not too focused on that.
"This time, I'll go out there and play with freedom to do the job on the day."