Chloe Kelly says she has returned to action mentally stronger, following her ACL injury.
The winger made a welcome comeback in Saturday's FA Women's Super League win over West Ham United, introduced from the bench for the final half an hour for her first minutes since May last year.
Naturally, our number nine was delighted to grace the pitch for competitive action once more, having had to wait patiently for the right time, and asserts she feels ready to show her manager, her teammates and the fans what she can do.
WOMEN'S TEAM HOME TICKETS | BUY NOW
"I'm absolutely buzzing to be back," she told mancity.com. "I'd been counting down the sleeps to getting back out there!
"I hadn't played in front of the fans yet so I was really looking forward to that. It was an amazing feeling.
"It had been difficult. I'd done everything I could in my rehab – I put so much effort in – and I'd felt ready to play for a while. There was light at the end of the tunnel but it was a big injury so I had to be careful because a game situation is completely different to training.
"During my rehab, I didn't want to change myself too much. I didn't want to just go in the gym and become too strong or too heavy – I wanted to stay as myself and be the player I was before my injury.
"I sat with the Sports Scientists and it was a case of: I want to keep doing what I'm good at. I wanted to feel as good as I did before. I've been working hard in the gym but I didn't want to be so strong that I couldn't move the same.
"There was a lot of hard work and effort put in and I really appreciate all of the effort everyone around me put in during that time, which was really difficult, but I'm back now and feeling good.
"In training, I felt back to myself – I haven't lost my quality – and probably even better. I feel mentally stronger and I'm enjoying myself. I'm enjoying being back out there with the girls and coming into training every day is amazing.
"When you spend so much time away from the team, when you're back out there, you appreciate every moment.
"I have a great bunch around me, who have given me the confidence to know I can perform at my best. Hopefully, it won't take long to get there and I can mirror what I'm doing on the training pitch in a game.
"It's just a case now of going out there and showing what I'm capable of."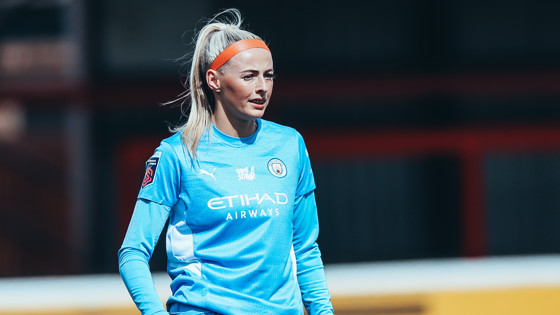 The timing of Kelly's comeback could not be better for Gareth Taylor and his squad, as we approach the final stretch of a demanding campaign with a top three place and FA Cup up for grabs.
The winger, who was named the Club's Etihad Player of the Season in her debut campaign, hopes to pick up where she left off after the international break and help her side to more silverware.
"It's the most exciting part of the season," she added. "We're aiming for the Champions League and the FA Cup of course and we need to get our goal difference up so hopefully, I'll be chipping in with goals and assists.
"Hopefully, I'll get some minutes in the FA Cup semi-final against West Ham and I can work towards being back to my best to compete in these big games, as I get further along in my rehab process.
"I'm excited to get more minutes but I'm not getting too carried away. I'm just focusing on each day and each game as it comes.
"I need to keep working hard – the pressure is on me to perform now."