Caroline Weir believes City demonstrated what we're capable of in our deserved 3-1 Continental Cup final win over Chelsea.
The midfielder grabbed a second half brace as Gareth Taylor's side came from a goal behind to claim the first piece of domestic silverware this season.
Reflecting on our turnaround after the restart, Weir felt her equaliser provided City with a fresh impetus at Plough Lane.
Indeed, the Scot believes we were full value for the fourth Conti Cup success in our history.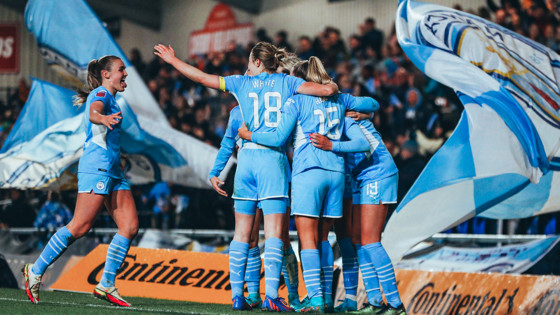 "It feels great, it was a top performance in the end," she reflected.
"In the second half we came out and showed what we're all about, got three goals and I felt we deserved the win.
"I'm delighted to come away with the trophy and hopefully we can push on from here and get another one.
"We took confidence from that early goal, and I think physically we were on top especially as the game went on.
"I'm delighted with that, and I thought across the team we defended well towards the end. The whole team put in good performances."
Weir has demonstrated her eye for the spectacular on countless occasions across her City career, none more so than with an exquisite dinked finish in last month's Manchester Derby triumph.
Her brace at Plough Lane was perhaps not quite as breath taking as some of her previous City strikes, but the midfielder's knack for arriving late in the box paid dividends.
However, Weir pointed to the role of the collective in our victory over Chelsea, even joking that she didn't make a clean contact with her equaliser!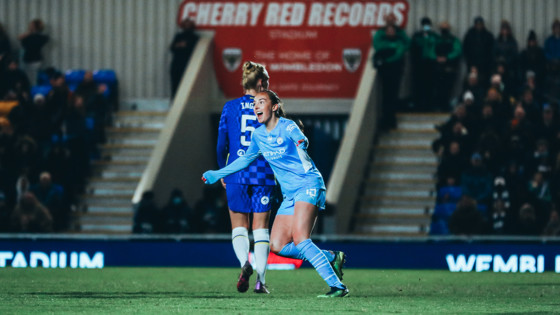 She laughed: "It (the first goal) came off my shin I think, but I'll take it!
"The team played so well, I found myself in the right positions, Georgia Stanway played a great ball to me for the first one and then it fell to me in the box for the second one.
"I'm delighted to score but the most important thing was getting the win.
"We had a convincing performance, we struggled a little bit in the first half but regrouped in the second half and came out on top."
Weir also hailed the unwavering support of the City fans and was pleased to be able to reward their long journey south with a win.
"It's great, it means so much to us as players especially in a stadium like this that was sold out," she admitted.
"We really needed their support and we can't thank them enough, it made it all the more special."