You write your name into the history books, scoring the first ever Manchester Derby goal in professional women's football...
As individual career highlights go, can that ever be topped? Apparently so.
Caroline Weir will forever be remembered for her stunning strike in the maiden Manchester Derby at the Etihad Stadium, rocketing an unstoppable effort into the top corner to clinch all three points - and the local bragging rights - in front of a record crowd.
With an incredible ability to score from range, the Scotland Player of the Year is no stranger to netting Goal of the Season contenders - but she excelled herself with another wonderstrike in Friday's FA Women's Super League home Derby clash, adding the most delicious icing to the cake in a 3-0 win over the Reds.
Collecting the ball on the edge of the box with her back to goal, the midfield magician rolled the ball goalward with a lovely backheel before taking a touch to compose herself. Then, glancing up and spotting Mary Earps off her line, Weir planted an exquisite chip over the goalkeeper and into the far corner to seal the win in the most fantastic fashion.
It was a joy to behold and a goal many have already tipped to claim the Club's Goal of the Season award, including former Blues Joleon Lescott and Nedum Onuoha.
Amusingly, in the matchday programme, Weir had discussed the thunderbolt at the Etihad in detail as her all-time favourite City strike...
With two moments of Manchester Derby magic now to choose from, does her 'cheeky' chip take top spot...?
"I'm still buzzing about it!" she smiled. "I have to admit, I have watched it a few times!
"I really like watching all the different camera angles. There's a really nice angle CityTV caught of it which makes it look really cool.
"Everyone always asked me about the goal at the Etihad so it's nice to have another goal to talk about!
"In terms of the goal itself, I think I prefer this one because it's a little bit cheeky!
"That's not me as a person but I like that it was a bit different. A lot of people score goals from outside the box or into the top corner but this one was a bit different.
"For now, this is my favourite!"
Talking us through the sensational strike, Weir admitted she had sought to perfect her technique in training, and explained the moment of magic may not have occurred, had she listened to her teammate's call...
CITY+ | SIGN UP TO ACCESS EXCLUSIVE CONTENT
"I think it was probably more of instinct than anything else," she said. "The first thing I remember is picking the ball up and Keira Walsh wanting me to set her, passing her the ball instead.
"At that angle, I try to chip the 'keeper all the time in training or in shooting practice before the game.
"Sometimes, it comes off - not very often! Most of the time, Ellie Roebuck, Karen Bardsley or Karima Taieb catches it and you look like a bit of an idiot!
"When it comes off, it does look quite good but if I thought about it, I probably wouldn't have done it...
"It was lucky for me it went in because I would have probably looked a bit stupid and I'd have probably been shouted at!
"When it went in though, everyone was buzzing!"
Deservedly, the goal has gone viral on social media and Weir is proud to have shone the spotlight on the women's game.
"In big games like that and big moments, it's nice to score that type of goal," she added. "It's nice to have a positive light on the women's game.
"I've had so much feedback - from friends and family but also from people who don't watch women's football but saw it on social media.
"The comments haven't been about it being a woman scoring - they've been about the technical skill it had.
"That's really positive because sometimes there can be a lot of negativity on social media. It's great for the game."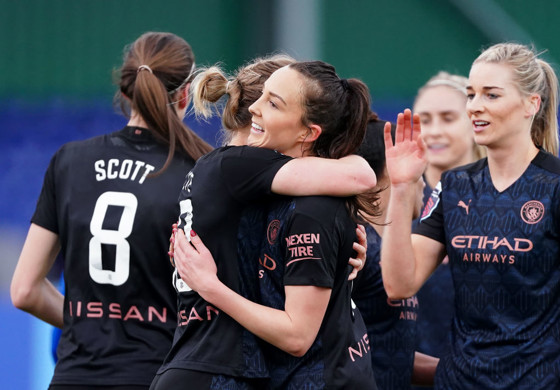 Reflecting on the win itself, Weir declared she was delighted to contribute to such a huge victory, which lifted City above United in the FA WSL table - two points behind leaders Chelsea.
"It was a massive three points," she stated. "Going into the game, we were definitely confident - we were playing well but you never know in a Derby and that was the first time they'd come to us since the game at the Etihad.
"We were confident but you know what Derbies are like - they're not usually the nicest games football-wise.
"It was a bit like that, especially in the first half, so it was a huge three points to keep our momentum going, putting us second in the league.
"We're challenging and that's exactly where we want to be right now. We always knew we could be here, even when other people were doubting us earlier in the season.
"It was huge for us and it really gives us a good lift, going into the international break."
Weir's form this season has been pivotal to City's success. The December Player of the Year has been in imperious form, chipping in with match-winning goals and assists.
Challenged by manager Gareth Taylor to contribute more in the scoring charts, the midfielder credits her scintillating form to growing familiarity in her more attacking role - a position she feels she thrives in.
Ever-humble, she explained: "It's helped that the team as a whole are playing well. As an attacking player, I rely on the people around me playing well.
"The way we want to play, it's all about the build-up - the back four having the ball to build and then finding pockets.
"Playing consistently, I've been seeing a lot more of the ball further forward. Gaz came in with tactical changes and I'm playing higher up, having more and more of an impact in the game with goals and assists.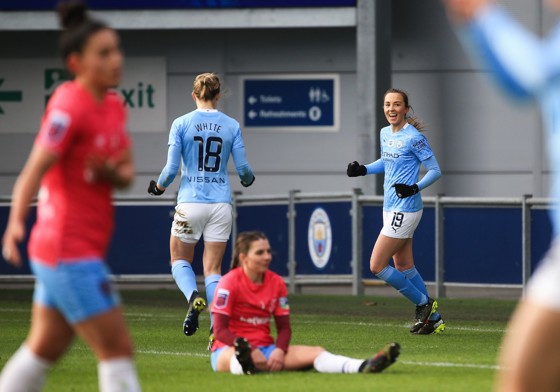 "Gaz has been great. We've sat down and chatted about what he wants from me and what he thinks I can bring.
"If you want to win the league, everyone has to contribute. Players like myself - midfielders - have to chip in with goals, as well as the front three, who are doing really well.
"Last year, I was playing a bit deeper but we spoke about playing me higher up and having a target of getting ten goals a season - and it seems to be working!
"I've always known I was better going forward in the final third - that's where I like to be: between the lines, in the pockets. That's where to get the best out of me.
"It's taken a little bit of time to get used to how he wanted me to play - and I missed a few games due to injury here and there - but I'm on a good run of games and things started to click.
"Although it was frustrating at the time to miss some games through injury, it was definitely the right thing to do to recover and now I feel better than ever and in terms of physical targets, I'm hitting them all.
"Now, I'm just trying to take my chances when I get them. I'm feeling good and trying to keep that going."
So impressive has Weir's run of form been, many have called for the Scotland star to be named in Team GB's Olympic squad, should the tournament take place.
The 25-year-old says she is flattered by the support, adding she would love nothing more than to become an Olympian.
"I would love to get into the Olympic squad," she continued, "but I try not to think about it too much.
"The squad selection is out of my control. All I'm focused on is my performances and if I'm playing well, I'll give myself a good chance.
"It's a really competitive squad with top players in contention so it's not something I'm thinking about too much, but it would be a huge honour.
"It's getting close. There's a hope it will go ahead. I'll think about it more nearer the time but for now, I'm only focused on my performances for City, making sure I keep playing well."