Assistant Manager Alan Mahon asserts City will not dwell on Wednesday night's Continental Cup quarter-final disappointment.
The three-time winners were eliminated at the hands of holders Chelsea, as Emma Hayes' side triumphed in extra-time, after the two sides had played out an enthralling 2-2 draw.
City had led the tie with just five minutes left on the clock but the visitors forced extra-time with an injury-time wonderstrike, courtesy of Niamh Charles.
Mahon admitted the setback proved a bitter pill to swallow but says he expects a response from the players this weekend in the league trip to Brighton and Hove Albion.
"It's frustrating that we couldn't get it across the line," he conceded.
CITY+ | SIGN UP TO ACCESS EXCLUSIVE CONTENT
"Fair play to Chelsea. Credit to them. They got the result.
"It's always very close when we play against them. It was always going to be until the last minute.
"We always seem to have competitive games. When we played them in March - in the 3-3 draw - there were a lot of emotional rollercoasters.
"We can look at a couple of things - a goal might have been offside, and we might have had a penalty claim - but the result went their way."
Asked what he said to the players at full-time, he replied: "The way I lead things, I just said: 'What's done is done.'
"You can't change it. Chelsea are into the next round. Fair play to them.
"You can only control the controllables. We have a game on Sunday. The girls will go off and rest now as they should.
"Then we'll regroup and over the weekend, we have another big game in the league."
Mahon has been deputising in Gareth Taylor's absence for the last two games but the Assistant boss says he believes the Head Coach is likely to return soon.
"I'm going to speak to him now," he explained. "We'll have a chat and go through the game.
"He's been fine. We speak most days. The process is still the same as it was when I took over from Nick: keep it stable.
"There's been a lot of contact - calls, information shares... Nothing's really changed.
"We expect he'll be back in the next couple of days."
The 42-year-old also shared updates on the absent Demi Stokes, and explained the decisions to substitute England stars Keira Walsh and Alex Greenwood was merely precautionary.
"Demi's not too far off," he said. "It's something we had to be mindful of.
"We're looking after the players at the moment. We're looking at different things and making sure everyone is alright.
"We have a good squad - a big squad - and it's about rotating at certain times.
"Keira was the same as Alex. We didn't know it would go to extra-time but it probably worked out right in that sense.
Focusing on the positives, Mahon heaped praise on 20-year-old Esme Morgan's contribution - and those of Academy stars Alicia Window, Millie Davies, Anna Phillips and Millie Ravening.
"It's brilliant for Esme and for us - to have young players coming through and able to be thrown in," he continued.
"We have faith and we're confident in our young players.
"Esme worked really hard. She went to get some experience last year at Everton, which is brilliant.
"We've found it really easy to rely on her when we've needed her in various positions. Credit to Esme and the work she's put in.
"We've tried on a regular basis to get young players involved, getting a feel for first-team football.
"They've been involved before. We felt at the weekend with the numbers we had, there was an opportunity to get them some experience.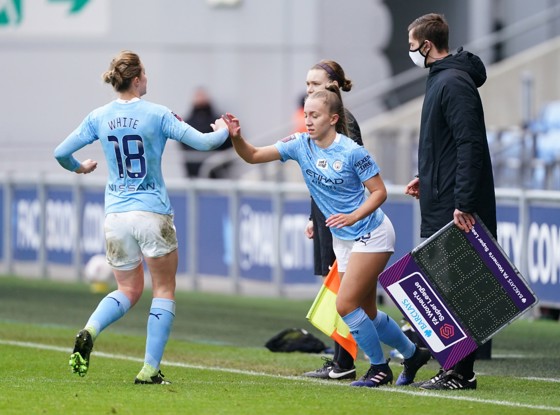 "They've worked incredibly hard - all of them. Credit to them on getting their debuts. They'll continue training with top players."
City head into Sunday's trip to Brighton five points behind league-leaders Chelsea - but Mahon asserts there is still a long way to go in the title race.
"100%," he asserted when asked whether City could close the gap. "This season been really good - competitive across the board.
"Teams are taking points off each other. Before, you wouldn't see that but now there are a lot more teams involved and the standard is a lot higher.
"Games are coming thick and fast. We have to be prepared anyway but there are going to be changes in the league.
"We have to adapt and make sure we're preparing as well as we can. We do a lot of analysis and prep the girls right so there is no excuse.
"I'm sure we'll catch up and be in the mix by the end of the season."