MCFC have joined forces with Official Wellness Partner Vitality to take fans inside the Club's Performance team.
In our new Health and Wellness series we're showing supporters just what it takes to prepare our Academy players, plus Men and Women's First Teams for matchdays.
This week we're focusing on a footballer's diet with Academy Nutritionist Lloyd Parker, who's sharing his expertise on the best foods for improving performance.
Watch the video below as he goes into the kitchens at the City Football Academy (CFA) to explain one of the tactics we employ to ensure our young players are getting the nutrients they need.
MCFC Perfect Plates
Feeling motivated? Why not check out Vitality's smoothie recipes, or if you're looking to improve your mealtimes follow Lloyd's 'Perfect Plates'.
Whether you're at the beginning of your fitness journey or a seasoned campaigner, this approach will leave you in the best condition to achieve your health goals.
Moderate activity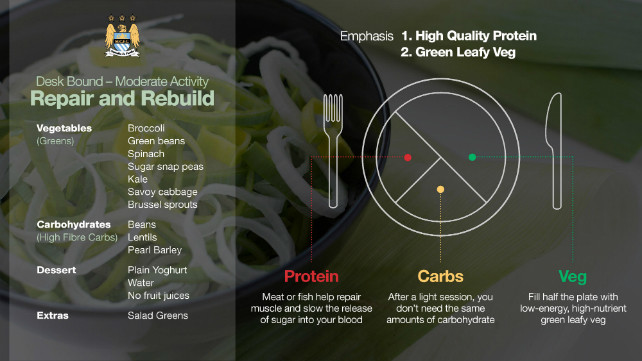 This plate demonstrates the portions that people should be consuming if they have a desk job or are only doing moderate activity (less than one hour a day).
Having a small portion of carbohydrate and a large portion of vegetables keeps the meal low energy but should keep you full until the next meal. Try and vary the vegetables you have each day in order to get a variety of vitamins and minerals.
Heavy training day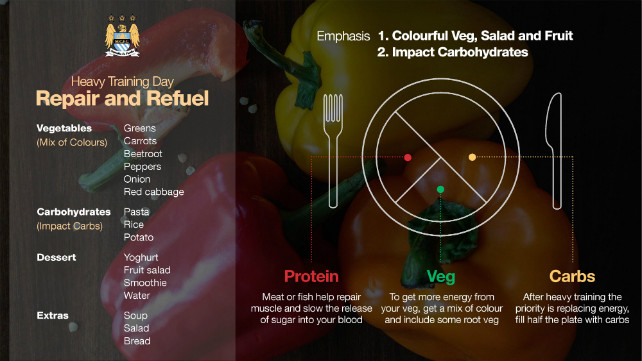 This plate is for people who are doing strenuous exercise (over over hour), two training sessions a day or have a very active job and do exercise as well. With the increase in activity levels you will need more carbohydrate in order to perform better in these activities.
It is still important to get a variety of vegetables in your diet. In addition, try and have a variety of carbohydrate sources, as again each type can provide different vitamins and minerals, aiming for more wholemeal varieties can help keep you fuller for longer.
Pre-match
Depending on when the competition is, this plate could either be three to four hours before or could be the day/night before.
If you struggle to eat on the day of competition use the day before to load up on carbohydrates to ensure that you are optimally fuelled. Use root vegetables at this time as they are more dense in carbohydrate so will aide you to maximise carbohydrate stores before competition.
VITALITY, CHANGING HEALTH & LIFE FOR GOOD.

Find out more at www.vitality.co.uk or follow them on Twitter @Vitality_UK.