Zack Steffen says he feels very much at home at City after joining up with the first team squad this summer.
The USA No.1 admits he initially took time to bed in to his new life in Manchester, but thanks to his team-mates and coaches, he feels part of the family now.

"Coming here was tough at first, but now I feel settled and comfortable and I'm ready for more. I've learned a lot so far," said Steffen.
"In fact. it's been a pleasure to be here; it's been awesome. I feel like I've gotten better and it's been fun so far.

"I think the goalkeeping staff do a really good job of continuing to push all the keepers on a day-to-day basis.
"You can't just come to training and give 50 percent. It has to be 100 and that's why we are one of the best clubs in the world."
Steffen also said he has been learning from the best in Ederson…
"He's a great guy he's always laughing but he's serious as well," he said.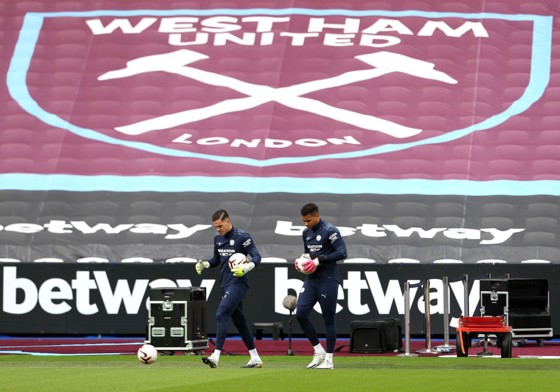 "The camaraderie that he and Scott Carson have created and coaches Xabi and Rich - the goalkeeping community they have created here is awesome. It's very detailed, but there is laughter there, too. It's been a pleasure to be a part of it.
CITY+ | SUBSCRIBE TO ACCESS EXCLUSIVE CONTENT
"Obviously, we all want to play games. I still feel like there is a lot for me to learn, but I feel like I have improved in a decent way since I came here."
Steffen admitted he can't wait to make his Champions League debut against Marseille on Wednesday evening and that it will be a proud moment for him and his close relatives and friends.
"I remember watching the Champions League for a long as I can remember," he said.
"Walking out and hearing the theme is going to be special for me and my family," he said.
"I am excited to play another game at the Etihad. I have to take my opportunities when I get them like Carabao Cup and tomorrow.

"This is a good challenge for us. We need to be professional, get a shut-out and get as many points as we can and continue our good play and get more confidence going into the derby.
"And playing against Marseille keeper Steve Mandanda will be special. He was one of my idols growing up
"I remember I would look at goalkeepers across the pond and Steve was definitely one of them.
"He was fun to watch and made big saves when called upon and that's the most important thing."
We will have full coverage of tomorrow's game right here on ManCity.com. 
Our Matchday Centre will get under way at 6pm, with text updates throughout the evening meaning you won't miss a beat. 
Our We're Not Really Here live matchday show starts at 7pm, with Paul Dickov and Kevin Horlock all joining us in the studio. 
And CITY+ subscribers can enjoy a full 90-minute replay from midnight. 
Enjoy your first month of CITY+ free of charge. After that, CITY+ costs £1.99 a month.
Find out more and sign up, here.