Shaun Goater and Gareth Taylor say the pain of City's Champions League Final heartbreak must not quash the achievements of another 'phenomenal' and record-breaking campaign for the Club.
Taking part in our first European Final for more than half a Century, City fell to a 1-0 defeat at the hands of Chelsea in Porto to end what has been another unforgettable season on a disappointing note.
However, speaking on our We're Not Really Here matchday show after the game at the Estádio do Dragão, the former City strikers remained optimistic.
Though naturally saddened, the pair took a thoughtful view of the bigger picture, on the back of another successful period with two trophies secured and another step forward in the Champions League.
Accomplishments, they assert, which should not be diminished by a solitary result.
"It's really devastating, heartbreaking," Goater admitted. "I'm trying to find the words – it is disappointing.
"I really thought with the way the game was going that it was lined up for us.
"We didn't quite perform to the levels we have shown for the second half of the season but I thought: 'This is a good thing. We can go on to get an equaliser and go on to win.'
"The disappointment will be not having worked the 'keeper enough. We have quality players who know about the big stage.
"That will be the disappointment when we all look back and reflect: why we didn't work the 'keeper – but sometimes, you have to say the opposition was really good on the day.
"We've come such a long way. This team has been phenomenal throughout the season to get this far.
"In Pep we trust because the way we've played and what we've produced in terms of trophies has been phenomenal."
Women's team Head Coach Gareth Taylor echoed the sentiments of his former City strike partner, expressing his pride for another enjoyable campaign.
Speaking as a manager himself, the 48-year-old conceded the pain will hurt Guardiola and the players, but adds the team can take inspiration from Chelsea boss Thomas Tuchel's accomplishment.
Having watched his Paris Saint-Germain side suffer defeat to Bayern Munich in the 2019/20 Final, the German boss guided his new club to European glory the following year.
"This is a big disappointment but we have to be really proud of the team and what we've achieved this season," Taylor agreed.
"This is why we all love the game – in equal measure, sometimes we love it and sometimes we really despise it. Moments like this are when it's really tough.
"Although it burns at the moment, overall, you have to look back and take some perspective and really congratulate the team on an amazing season.
"To get to the Champions League Final is not easy. You have to give Chelsea credit – they looked dangerous on the counter-attack in the first half and defended really doggedly, restricting City to very few attempts on goal.
"Shaun has hit the nail on the head – we've got to really trust in Pep. He's delivered a lot of trophies for this Club.
"This team, this Club are moving in the right direction. Hopefully, being in the Champions League semi-finals and Final will be something that becomes really familiar.
"We want to be back there again. This is the trophy we really want.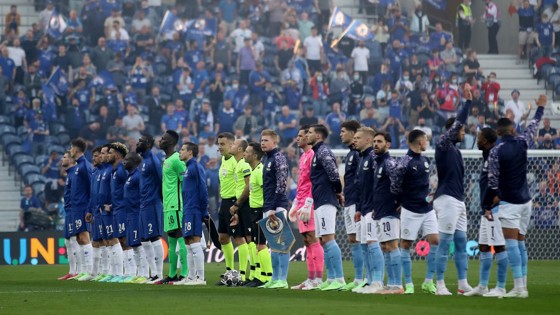 "We know Pep has been successful before in winning this trophy and it's something he really wants to bring to the Club.
"This will hurt him because we've got so close. It's something he really wanted to achieve. That speaks volumes because of the way he feels he's really been backed here. He's really produced.
"Look at the Chelsea manager – he lost this Final last year and he had that feeling. Now, he's come back and won it.
"That's football – sometimes you win and sometimes you lose.
"It's so hard to win these trophies. We understand everybody wants to be there. Our team has been knocking at the door for a couple of seasons.
"The team have won a lot this season and if we continue to keep going the way we are as a Club across the board with Pep as our main guy, we're going in the right direction.
"We've been winning trophies but this is the one we really wanted and I'm pretty certain it's not too far away."